Several injured in bus accident at Petit Paris
02-May-2013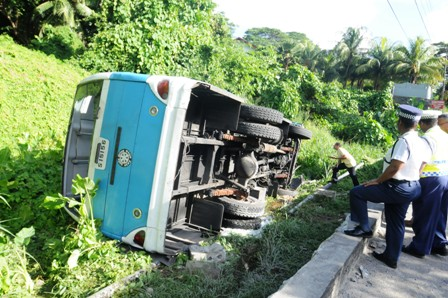 There were about 30 passengers on the bus travelling from Mont Plaisir towards Victoria. The bus normally takes 36 people.
According to the Seychelles Public Transport Corporation (SPTC), 26 of the passengers were transported to the casualty unit of the Seychelles Hospital for treatment.
Dr Patrick Commettant, the physician who attended to the casualties, confirmed on Tuesday afternoon that the first injured passenger arrived at the casualty for treatment at 7.35am. He said that apart from a 39-year-old man who was treated for a broken foot and admitted in D'Offay ward, all the other persons were treated for minor injuries, anxiety, shock and were given medication for pain and were discharged.
Dr Commettant further noted that by 11am all those involved in the accident had been attended to.
The police are investigating the circumstances of the accident which caused the bus to overturn and went to rest on its side while the SPTC conducts its own internal investigation.
This is the third accident involving SPTC buses in less than two weeks.
Meanwhile, the public transport corporation is calling on the passengers involved in the accident to submit their claims to the SPTC through its investigation, insurance and claims unit located at New Port as per the SPTC procedure.
When doing so, passengers have to bring along their bus tickets and medical documents.
The SPTC has also pointed out that the police have completed their investigation in the La Louise accident which occurred on April 20 and they have ruled out any mechanical or brake problem with the bus.
Meanwhile the SPTC is still investigating the circumstances of the accident.
Following these accidents, the SPTC has reassured members of the public that all its buses are being maintained/serviced as per existing schedule and that all its buses which are in service are roadworthy.
To note, the bus involved in the Petit Paris accident was last serviced on April 24, 2013.