Bel Airians give voice to concerns
04-May-2013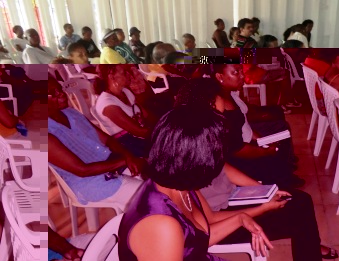 DA Zelia addressing guests and residents during the meeting on Saturday
Social Affairs, Community Development and Sports Minister Vincent Meriton, member of National Assembly Nichole Barbé and district administrator Alexandrine Zelia as well as members of the district team were present to answer questions put forward by the residents.
Among the issues raised are: use of public bins, security of public and private properties, safety of certain roads especially the footpaths, more patrol by office officers, speeding and lateness by some Seychelles Public Transport Corporation (SPTC) drivers, surveying of land, housing, and irresponsible decisions by some sports officials among many more.
District administrator Zelia, who took office in September 2012, made a presentation on her team's achievements, and on the work done in the district to make the lives of the population better.
After many residents argued that because land is scarce in Bel Air, the district should have more people on the list going to Ile Persévérance. On the other hand, others reminded that if all Bel Airians keep emigrating to Ile Persévérance, the district will lose its workforce and its people.
MNA Barbé brought a sigh of relief when she said a plot of land has been earmarked for a housing unit in the Bel Air district but more details will be given in due course.
A strong advocate of good living values, Minister Meriton made a presentation about the activities being implemented in the social renaissance plan of action.
He noted that Seychelles has moved into action mode and this can be seen in the many decisions being taken, for example stiffer sentences for criminals and drug dealers.
The minister added that with the emphasis now on preventing children from falling prey to negative influences and stabilising the family, pregnant mothers and their partners are being asked to follow parenting classes.