Visual Arts graduates host 'Traces' exhibition
04-May-2013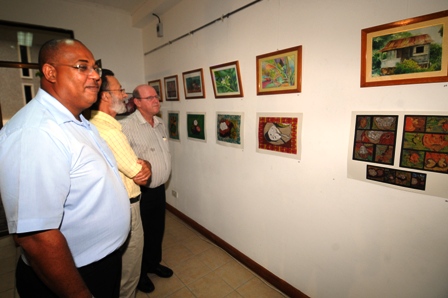 Guests viewing the exhibition
Traces, as the exhibition is called, is a collection of images and objects containing aesthetic symbolic functional and expressive qualities that are reflective of the students' individual identity, culture and their environment.
The exhibition also comprises work ranging from textile fashion, graphic design and fine arts.
In his introductory remark, Jimmy Savy, chief executive of the National Arts Council, said that the exhibition is to celebrate the students' achievements and their talents to make a difference.
"This event is an opportunity to explore ways to empower our young and gifted artistic people to participate fully in the life of their community and of their institution. I would like to take the opportunity to reiterate the significance of Art education as a powerful tool which provides students with a wide range of skills, knowledge and attitude, enabling them to explore their innate creativity," said Mr Savy.
Mr Savy outlined that the ultimate goal of the exhibition is to give confidence to young emerging artists.
"We want our future artistes and designers to become more artistically engaged while being able to face various challenges in the future. It is important to note that many aspects of contemporary life require creative people and since we are also living in an age of communication which contain images, be it in publications, films and adverts, artists and designers have a crucial role to play," said Mr Savy.
When he was called to officially open the exhibition, the Minister for Tourism and Culture, Alain St Ange, said that visual arts can only have its rightful place in the arts arena when artists create.
''Visual arts can only exist when someone gifted can transform through his or her artistic talents any materials into a powerful work of art. Dear students you've been gifted with such magnificent talents, use them wisely and with our support continue to bring your work of art to the community at large. I personally commend students of visual arts for their achievements. The Ministry of Tourism and Culture will continue to work with you, and will give you the due encouragement to follow your career path," said Minister St Ange.