Barclays trains trainers to improve customer service
06-May-2013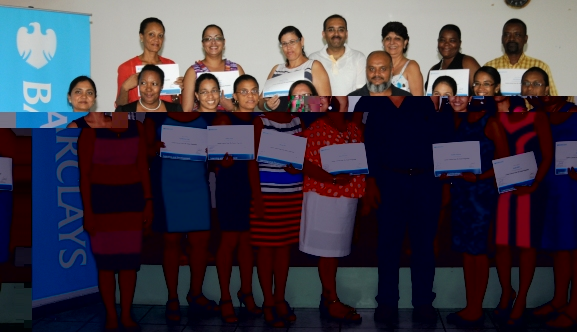 The training was aimed at giving those taking part the skills and knowledge to deliver similar programmes for heir Barclays colleagues with the aim of having an overall better customer service.
Staff representing all the departments in the bank had been selected.
Held at the Care House, the one-week training was led by Yousouf Joohun, the head of the learning, leadership and talent from Barclays Mauritius.
The main components of the training included seven modules, where the trainees developed skills in organisation, commitment, oral communication and impact, resilience, interpersonal sensitivity, challenging thinking, and managing learning activities.
At the end of the training on Saturday afternoon, those who took part got certificates presented by the managing director of Barclays Seychelles Rakesh Jha.
Speaking to Seychelles Nation afterwards, Mr Jha said that with customers' expectations running high and forever changing, they aim to provide world-class service.
"Training programmes are also organised based on two factors: in terms of what we feel the staff need, and also what the staff themselves feel they need, so it's a combination, and it's a continuous investment," he said.
"A lot of customers are giving us feedback and we feel that the bank is moving forward, but progress doesn't happen overnight. We organise monthly meetings with our clients, where we ask them for feedback regarding our service, that way we can identify where the gaps are."
He added the bank has drawn up a new set of values, most of them addressing customer needs, with emphasis on being responsive, maintaining integrity, service – all aiming to give the clients a more enjoyable experience.
Speaking to former trainees (now trainers), Patricia Port-Louis and Paul Derjacques agreed that they have gained new skills through the training and which they will share with colleagues over the course of the coming weeks.