Worrying occultism and superstition trends emerging in schools
09-May-2013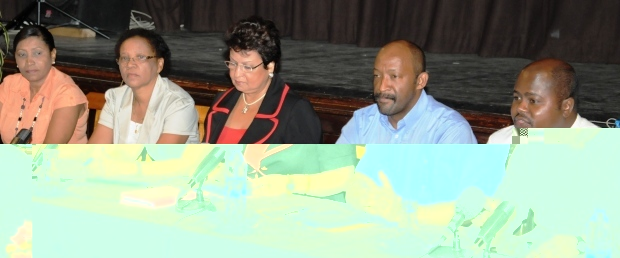 Yesterday meeting attended by the school heads and the leaders
This was announced in a meeting for head teachers and schools leaders which is held prior to the start of each school term. The meeting was held at the National Theatre, headed by a panel comprising the Minister for Education Macsuzy Mondon, and her principal secretary Merida Delcy.
Also present were the Minister for Social Affairs, Community Development and Sports Vincent Meriton, principal secretary for social affairs Linda William-Melanie and Father Louisson Bissila from the Catholic Church. The latter trio were present to talk about the social renaissance programme, which included a presentation by Father Louisson.
He spoke about a worrying trend in schools where in certain cases students have been attempting to trying out occultism; in certain cases, students have shown symptoms of being possessed by certain spirits, and their behaviours picked up on by school officials.
"Since prevention is better than cure, we should act decisively and do our best so that our students do not fall into the snare of occultism and Satanism," he said.
He also spoke of the effect of globalisation on Seychelles, where tools such as the internet have had a major role in helping young people become ensnared.
A number of those present accepted that the problem is a real one, and present in schools, homes, and communities and gave examples where students have had to be brought to priests, and others caught exhibiting peculiar behaviour thought to be possession by certain forces, and later found to be connected to occultism and in certain cases following of illuminati.
Others said students were observed to have been holding cult meetings, dyeing their hair black, wearing of mascara and eyeliner, refusing to enter the church during school-organised masses.
The head teachers and school leaders asked to be given formation to be able to detect and deal with students who are doing such practices, to review religion classes, to promote stronger spiritualism, as well as get help from religious volunteers from communities, and churches.
Also discussed during yesterday's meeting were new projects to be undertaken by the ministry, actions for 2013, this year's national inter-school athletics championship, graduation ceremonies, teacher retention, expatriate teachers, extra-curricular activities, children's and teachers' day, and the budget for 2014.