New projects to take Beau Vallon's Golden Mile farther ahead-. Consultations planned
10-May-2013
The development will include a new police station, a fire station, a better walkway or promenade, a public recreational park and enhanced parking for visitors.
There will also be new recreational area for beach volleyball, tennis, basketball, a stage area for public gatherings and entertainment as well as kiosks for artisans and refreshments.
Later projects will include new walkways and more public parking area and a pathway that will link Golden Mile with areas just beyond the Mare Anglaise beach area.
The plan was presented to members of the public by Home Affairs and Transport Minister Joël Morgan, Tourism and Culture Minister Alain St Ange and Land Use and Housing Minister Christian Lionnet at the Beau Vallon district administration hall last Saturday.
This was the second round of consultations on the proposed work and more discussions are planned.
Members of the public were shown visual presentations of the plans.
Golden Mile is the stretch of beach at Beau Vallon which has long been a well visited area located between the current and recently renovated Coral Strand hotel and the beach restaurant La Plage.
The plan to rehabilitate the beach front would as well cater for and enhance services currently not provided for and would add value to this area for residents and visitors alike.
The idea to enhance the area was discussed at a meeting of the Seychelles Hospitality and Tourism Association with the Ministry of Tourism and Culture in April 2012. Subsequently, draft plans were drawn up and presented to the stakeholders from Beau Vallon in a first meeting late last year.
Mr Morgan on Saturday said the future of Beau Vallon would be best safeguarded by everyone working closely together.
"With this proposal, government is opening new possibilities and proposing new joint actions. I believe that everyone should come together to enhance Beau Vallon and make it the tourism and recreational area it deserves to be," he said.
"Together we need to look at a comprehensive approach to improve transport and other infrastructure, to provide for better leisure facilities for our people, improve law and order and to upgrade the general environment and esthetics of Beau Vallon. Everybody who is a stakeholder should partake in this responsibility and we should come together as a team to make this proposal realisable."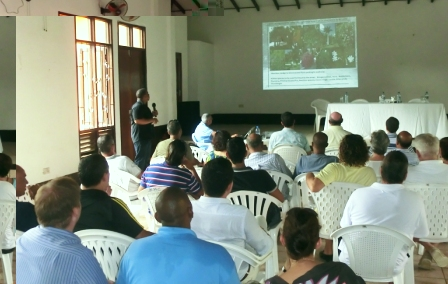 Those present asked questions and offered ideas where there were concerns about the project. Of concern were issues pertaining to the environment of the area, street lighting, pavements, how residents would be affected by more buildings and people in the area as well as traffic congestion.
During the meeting, it was made clear that public events such as Regatta, Bazar Labrin, Subios and other popular meetings would continue to be held at the recreational park location in the future, and as a result of the project, under more pleasant surroundings.
The public are invited to visit the website of the Ministry of Land Use and Housing (http://www.luh.gov.sc/) to view the current proposal, which will be posted shortly for further comments or consideration.