International Nurses Day – May 12-President hails nurses for role in millennium goal gains
11-May-2013
His recognition of their contribution is carried in the following message in which he greets nurses in the country on the occasion of International Nurses Day which is being marked tomorrow under the theme 'Closing the Gap: Millennium Development Goals'.
In the message, Mr Michel says:
"International Nurses Day this year highlights the invaluable contribution of nurses in helping to attain the Millennium Development Goals.
"In 2000 the United Nations adopted eight MDGs which provided a framework to meet the needs of the world's most vulnerable. Goals 4, 5 and 6 are health related. By 2015, countries of the world hope to have reduced child mortality, improved maternal health and reversed the spread of HIV/Aids, tuberculosis and other diseases.
"In Seychelles we have, indeed, already achieved a high-level of MDG successes. Nurses have been the main actors in delivering care and promoting access to health services.
"They are to be commended for being key participants in building a stable, prosperous and healthy Seychellois society. All our nurses deserve our full appreciation and gratitude for the outstanding work they are doing in the community. They represent the values of human dignity, caring, compassion, love, dedication and excellence.
"Nursing is one of the most respected and honoured professions. Linking the noble work of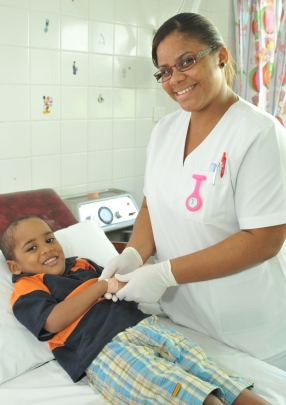 the nurses to the implementation of the millennium development goals shows how much the world values the nursing profession. It is another recognition of the major contribution they make to humanity's progress.
"Today, time is of the essence, not only in light of the fast approaching 2015 deadline, but also because of the changing economic environment, the rise in the burden of diseases and the means to achieve the MDGs.

"Nurses and midwives usually are the first line of contact with the mothers and children whose lives MDGs 4 and 5 require we protect through an efficient health care system. Nurses have the skills and motivation to develop effective and affordable interventions and information that promote the health and wellbeing of mothers and their babies. They have very important roles to play in the delivery of services to halt the HIV/Aids epidemic and stop the spread of tuberculosis and the non-communicable diseases which are the focus of MDG 6.
"While much has been done, there is always room for more. The country's progress towards achievement of the MDGs is measured in lives saved, suffering averted and communities prospering. Nurses must continue to ensure that all groups in the population have access to the available healthcare services. They are required to 'Close the gap in the MDGs' by uniting behind the common vision to improve the health of people and the communities in which they live.
"It is my pleasure to thank all nurses and midwives in Seychelles for the improvements in the quality of life of all our citizens.
"My government, my family and I join the Seychellois nation in wishing them a happy Nurses Day.
"May God bless and protect all our nurses and midwives."