Seychelles India friendship golf cup 2013-Micock wins on highly competitive day
11-May-2013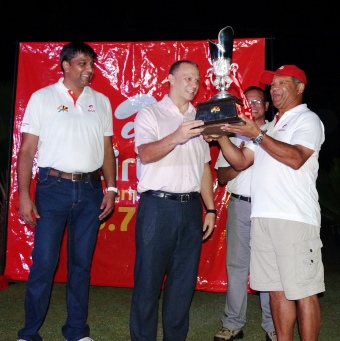 It was the second highest turnout in any golf tournament organised in Seychelles.
Eddie Micock came out as the winner of the tournament with 38 points, only a single point above second placed Andrew Hoareau who finished with 37 points.
The prize-giving ceremony was attended by the Minister for Foreign Affairs Jean-Paul Adam, Indian High Commissioner Thanglura Darlong, principal secretary for information communication and technology Benjamin Choppy, Airtel Seychelles country manager Vikram Sinha and other invited guests. During the ceremony, Mr Darlong thanked Airtel for being the spirit and sponsor of the competition.
Minister Adam expressed the importance of the competition, saying it was about building friendship and consolidating the bond that exists between Seychelles and India. He added that it illustrates how powerful that relationship is.
Mr Adam said that we place a lot of value on such relationships and events such as this golf competition underlines this. He also thanked the Indian High Commissioner for his role in organising the event. He thanked Airtel for being an example of an investor that is working in partnership with the government and the people of Seychelles.
Shi was awarded the prize for best strong nine and Vishal Shah for best back nine both with 20 points. The longest drive was by Richard D'Offay, nearest to pin was Jocelyn Ah Yu and the boogie prize went to Paul Gordin.
S. N.