Click, order... and bulk up-. First sports supplement website for Seychelles
13-May-2013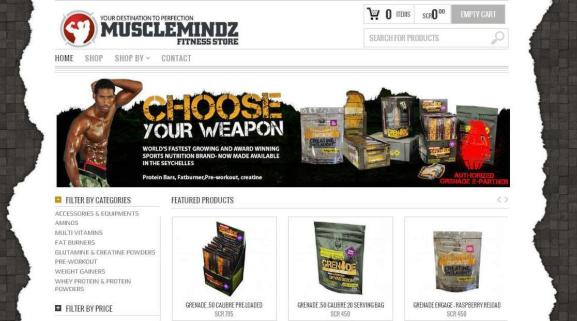 Sports supplements are dietary supplements commonly used by those involved in bodybuilding and athletics. They may be used to replace meals, enhance weight or muscle gain or improve athletic performance.
Although he has a physical store in Cascade, the owner of Muscle Mindz, Barnsley Antat, says the website was created to give customers the option of ordering from the comfort of their own homes using modern technology.
"Almost everybody is going on the internet for purchasing and they are also buying their supplements directly from the United States," said Mr Antat.
"So what we are trying to do is offer them the same products from a local distributor at a much cheaper price, without paying bank charges or waiting 21 days for the goods to be shipped."
Mr Antat says the supplements Muscle Mindz offers are safe to use and do not contain any banned substances for use in sports, although he did warn that some products contained high levels of caffeine. He further added that the products have been permitted into the country and duly licensed by customs authorities.
Muscle Mindz currently accepts cash or cheque on delivery and they also have agents on Praslin and La Digue to support next-day delivery on all three main islands.
Mr Antat believes the market for sports supplements is growing in Seychelles.
"The public is taking health and fitness more seriously, so there is a demand for these products."
H. A.