Ministry looks to better health workers' conditions
14-May-2013

Speaking at the opening of the ministry's conference for health workers held yesterday at Ephelia resort, Minister Mitcy Larue wished the assembled health professionals a happy International Nurses Day and Health Worker's Week, celebrated around the world on May 12 and April 8-12 respectively.
Mrs Larue said that the 1,500 people working in the health sector in Seychelles were the ministry's
"greatest assets" and said she wished to see each of them become an ambassador for good health and healthy living.
"Since I joined the health ministry a year ago I have come to understand that the health of our nation is in your hands. But I also know that we have a lot of work to do to inform, educate and empower you as individuals, as health workers and as members of our society," said the minister.
Mrs Larue said that recent calamities in Seychelles have made her realise how vulnerable the country is and said it was sad that health workers had to spend so much time and effort being the caregivers of those whose poor lifestyle choices have cost them their health.
"I realise more and more that our health workers give so much of themselves and are often involved in very difficult, often life-threatening situations," said the health minister to her assembled staff members.
"Today, I stand before you and say that I will do my best to support you to become healthy health workers."
The theme for World Health Day in 2013 is high blood pressure, also known as hypertension, which can increase the risk of heart attacks, strokes and kidney failure and so the health workers attending the conference queued up to have their blood pressure and sugar levels tested. As one ministry official put it, most nurses and other health professionals do not have time to think of checking themselves for early signs of preventable diseases as they are so focused on saving the lives of others.
The director-general for human resources and administration at the ministry, Sandra Crewe, acknowledged that overworking of staff due to limited resources and short-staffing could lead to hypertension, stress and depression in health workers. She has said that the health ministry is working on a plan to recruit more staff to both save money on overtime pay and also allow health workers more time to rest and be with their families.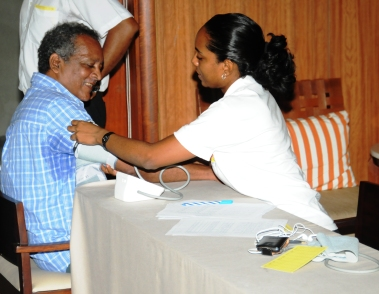 "We have got the assistance of the ministry of finance to analyse our overtime, because we are paying a lot of overtime for staff," said Ms Crewe. "In my opinion, if we can pay new people to do the same amount of overtime that is being done, then you are not only feeding a new family, but then you also have staff who are not often sick or burnt out due to overtiredness."