Up Close … with mathematics education specialist Justin Valentin-'My achievements are thanks to many individuals'
14-May-2013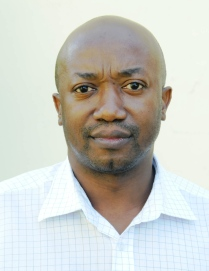 Dr Justin Valentin, a mathematics education specialist, now joins a team of determined individuals who want to see mathematics reach a higher level in Seychelles.
Most of us remember him from television programmes back in the 90s reciting poems, telling stories and making people laugh out loud with his jokes.
But the father of two and resident of Au Cap, now focuses on education and wants to venture into theatre forum – a technique which uses role play to stimulate deep reflection and change within members of an organisation.
"I believe this concept, which is part of workplace innovation, can help employers and employees to resolve conflicts together," he says.
We have seen in many organisations where the relationship between these two parties is not good at all, he adds.
NYS … a time of discovery
The two years spent at the defunct National Youth Service (NYS) has been a time of discovery for him as it has helped to build his confidence and tolerance.
"At the NYS, I learned how to live with others, to appreciate what I have and to develop values such as sharing and building strong bonds with those you live with," he says.
My days at the NYS has led me to believe that two brothers at a young age should share a room at home because this will help them build a closer bond and develop great values in life, he adds.
Leaving the NYS after completing his two years, Dr Valentin sat for his O-Levels then his A-Levels in mathematics, chemistry and physics.
"When I was doing my A-Levels, I found out that I enjoyed teaching other students mathematics and I saw it as an interesting experience," he says.
He holds a B.Ed (Hons) from Edith Cowan University in 1997, the same year he started to teach at the NYS.
I was there for two years and again I can describe it as an enriching experience as it was there that I built my career-path and foundation in education, he adds.
After the closing of the NYS, he went to work at the Ministry of Education's headquarters in the research section and in 2001 he went to Malaysia to pursue further studies.
He came back with a Master of Education from the University of Science in 2003.
The centrepiece of his career
After concerns were raised over low performances in mathematics, the Improvement of Pupils' Achievement in Mathematics (IPAM) project was launched in 2003 to look into the matter.
"The IPAM project is the centrepiece of my career because through it I discovered the beauty of teaching and of working with teachers," he says.
Dr Valentin adds that he is indeed satisfied with results attained from the IPAM project.
"I believe that more teachers are now aware to really understand what it means to teach a mathematics lesson."
When he was awarded with a Commonwealth scholarship, Dr Valentin did not hesitate to take the chance as he felt it was time for a transformation in his career.
From 2009 to 2012, Dr Valentin's focus was on his studies at King's College London.
His thesis entitled 'Primary mathematics teaching reform in a small island developing state: the case of the mathematics lesson structure in Seychelles' shows that the primary mathematics teaching reform led from 2004 to 2009 has benefited both teaching and leadership in various ways.
Through this he wanted to evaluate how meaningful the effort to change the teachers' practices has been since no major study had been carried out on the reform.
"But the three years I've spent studying have been an intellectually demanding process," he points out.
The thesis generates several important themes about pedagogical innovation such as the roles of context, the challenges to reform teacher practices and the need to create specific teacher learning models in relation to the size of the country.
Dr Valentin, who is the director general of the policy planning and research division in the Ministry of Education, now holds a PhD in Mathematics Education and has been conferred the award with effect from April 2013.
"A lot of people have known me as being an artist but when at a crossroads to choosing my career path, I had no interest in choosing arts as a field to specialise in," he says.
This is because the way art was seen in society in those days compared to the present, he adds.
"I believe we need to invest and show the young generation that the field of arts has many prospects.
"Our kids love to watch movies and cartoons but what we need is to have our own locally produced television items which show our culture and which are equivalent to what they are watching. They need to see themselves, their development and their culture in those movies and cartoons."
The poet …
"I started reciting poems at a young age, when I was still in primary four at the Takamaka
school," he recalls.
He was inspired to venture into this wonderful world of words and emotions by his brother – medical doctor Bernard Valentin – who was a poet.
To this day, though he leads a busy life like many of us and though mathematics education has become his passion, Dr Valentin remains bonded to poetry.
Other interests …
He also spends a lot of time on the internet, continually learning new things and expanding his knowledge.
"Internet is the best gift the world has given to the world," he says with a smile.
"I also enjoy socialising, meeting new people and I love to talk."
Listening to elderly people talk fascinates him. He loves the way they talk and the expressions they use as he sees them as amazing.
"And I have always enjoyed listening to my mother. She is one lady who has inspired me in many ways and has motivated me throughout my journey in life."
To end …
"I recognise that my achievements are thanks to many individuals especially those whom I call my encadreurs," he says.
"So I would like to end with this quote by Sir Isaac Newton 'If I have seen further it is by standing on the shoulders of giants'."
By Mandy Bertin