Workers hone disaster time care skills
15-May-2013
Dr Madra speaking to the delegates on day one of the workshop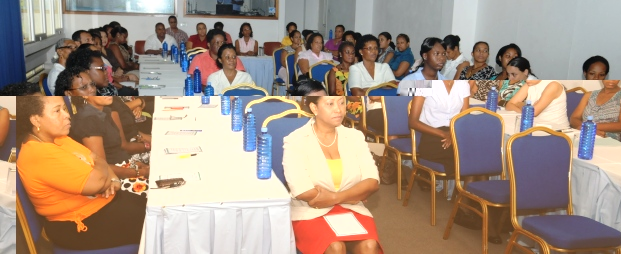 This is during a three-day workshop which started on Monday at the International Conference Centre (ICCS).
Dr Primo Madra, a reproductive health specialist from the United Nations Population Fund (UNFPA) and a UN volunteer in reproductive health and HIV prevention, is leading the workshop.
Acting health principal secretary Dr Jude Gedeon launched the training workshop and this was in the presence of the principal secretary for social affairs Linda William-Melanie.
During the three days those taking part in the workshop which ends today have learned more about the Minimum Initial Service Package (MISP) for reproductive health which is aimed at building the capacity of those people concerned, in that case health personnel and social workers, so they respond effectively and ensure that reproductive health needs of affected communities are met during disasters and emergencies.
The training in the MISP forms part of help given to Seychelles by the UNFPA under its support programme.
Such support was recently reconfirmed when the UNFPA representative Agathe Lawson was here to sign the organisation's annual work plan with the Health Ministry.
"During emergencies and disaster people still have sex but there is also a higher risk of sexually transmitted infections, pregnant women can suffer traumas or miscarriage," said Dr Madra.
"It is therefore important to ensure that pregnant women have access to the care they need in case delivery starts or in case their pregnancies get complicated. During disasters there is also a higher risk of sexual violence as unscrupulous individuals may take advantage of the most vulnerable," he added.
"Should this happen the MISP has that aspect to ensure immediate action to prevent people from being affected from unwanted pregnancies, from contracting HIV and preventing the virus from spreading during disasters and emergencies," he added.
During his visit here, Dr Madra has conducted a rapid needs assessment to establish the potential impact of the January disaster on reproductive health care services delivery to identify the needs in affected districts.
With the help of reproductive health programme manager Peggy Azemia, Dr Madra visited six health facilities – two were directly affected by the recent disaster, two were not while the other two were referrals points handling affected people.
"This gave us a good picture of what happened and to assess the respond potential of those services," said Dr Madra.
At the start of the workshop he shared the findings of the assessment to those present.
It was found that during the crisis reproductive health services delivery continued and no dip in service utilisation was observed due to the short period of disaster. The services had adequate capacities to give services even though health workers were not aware of the MISP.
It was also observed that there is the need to conduct more studies to determine the reproductive health needs of communities especially those of young people.
There was also a number of women who needed antenatal services, some who needed contraceptive refills and health workers did a good job trying to get the services to clients but these were not done in a systematic way and could of course have been done better if they had known that reproductive health services needed to be among the services they should be providing.
"Talking to midwives in health facilities it came out that the emphasis was more on communicable diseases and possibilities of outbreaks but reproductive health was not a prominent feature of their activity," said Dr Madra.
The findings of the assessment and the MISP will now be integrated into the health disaster preparedness and risk management and response plans.