Football: Barclays league division one-Côte d'Or secure last-gasp winner against St Michel
17-May-2013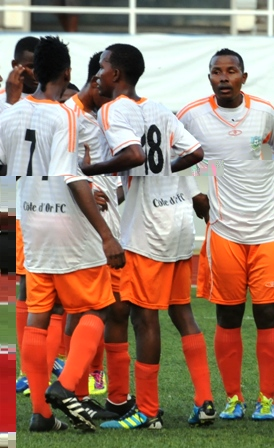 The win has helped Côte d'Or regain top spot in the standings with 21 points – one more than second-placed La Passe, while defending champions St Michel are third with 18.
This six-pointer drew a large crowd as the fans came down to witness a bruising encounter between these top sides.
St Michel carried the match to their opponents but found Côte d'Or a hard nut to crack as they tried to avoid a third defeat.
In fact, Côte d'Or had the first real chance in the sixth minute as Collin Esther cut inside a defender but he shot over the crossbar.
However, St Michel were the better side and in the seventh minute captain Don Anacoura threatened as he linked up with Andy Mougal to set up Wilnes Brutus but his shot was easily saved by Côte d'Or goalkeeper Kitson Cecile.
In the 22nd minute, Brutus pounced on a defensive error by Côte d'Or defender Benoit Marie but his shot on the turn sailed agonisingly wide.
A minute later, Brutus had a better chance though he looked offside which was not signaled by assistant referee Darrel Monthy, but his shot was blocked by goalkeeper Cecile. The rebound fell to captain Anacoura but once again his shot was saved by Cecile.
Côte d'Or struggled to get their act together but in the 29th minute Malagasy Patrick Rasaminana latched onto Yannick Manoo's mistake to square the ball to Dine Suzette but his pass was too strong and they wasted a good opportunity to punish St Michel.
Côte d'Or raised their game in the second half as they tried to match St Michel who for their part pressed their opponents high up the field.
In the 66th minute, Côte d'Or had a decent opportunity as Steve Esther played a long ball to Renick Esther who laid it to Bernard St Ange whose shot on the turn flew narrowly wide.
Four minutes later, St Michel's substitute Leeroy Corallie capitalised on a mistake by Steve Esther to combine with Hassan Aly but Esther recovered in time to tackle the former Anse Reunion midfielder in the nick of time to thwart the danger.
In the 72nd minute, Côte d'Or's Steve Esther played a long free-kick to Suzette but in a good scoring position his control let him down.
As St Michel pushed forward they were almost punished in the 83rd minute as Renick Esther countered to link up with Suzette but he shot in the side-netting.
Three minutes later, Côte d'Or were reduced to 10 men as St Ange was quite rightly shown a second yellow card for a two-footed tackle on Henny Dufresne. Referee Jean-Claude Labrosse, who had a good game, had no choice but to dish out a second yellow card, meaning St Ange had to go for an early shower.
A minute later though, Côte d'Or should have taken the lead as Malagasy Jean Tigana twisted and turned his defender to centre to substitute Marcus Labiche who had a great opportunity to score against his former club from five metres out, but he fired over the crossbar.
In injury time, Côte d'Or were awarded a contentious penalty as defender Joel Barbé was penalised for a push in the back on Dine Suzette. Referee Labrosse had no hesitation and pointed to the penalty spot much to the disbelief of the St Michel camp.
After much argument, footballer of the year Tigana stepped up to send goalkeeper Nelson Sopha the wrong way to make it 1-0 as the Praslin team supporters celebrated in the stands.
As St Michel pushed for an equaliser, Côte d'Or should have added a second goal six minutes into injury time as substitute Gerald Basset got the better of St Michel's substitute Dereck Agathine but his lob sailed agonisingly wide.
Côte d'Or coach Ahmed Abdou was very pleased his team had avoided a third defeat and win to move to the top of the league table.
"It was a difficult match where we had to take risks to avoid a third defeat and therefore we had to attack. This is a good result for us as we bid to defend our Airtel Cup title as well as prepare for the l'UFFOI final.
"We are happy to be on top of the league after the first round with this young squad and we want to thank our supporters who have helped us win this difficult encounter," coach Abdou said.
As for St Michel manager Andrew Jean-Louis he said the match was there for his team to win but they did not make the most of the opportunities that came their way.
"We should have won this match in the first half where we were dominant. But this defeat may be a wake-up call for us as we need to get back on track though the league race is still wide open," manager Jean-Louis said.
The following is the league table at the end of the first round of the league
TEAMS
P
W
D
L
GF
GA
Points
Côte d'Or
9

7

0

2

18

6

21

La Passe

9

6

2

1

20

7

20

St Michel

9

5

3

1

21

8

18

Northern Dynamo

9

4

3

2

25

12

15

The Lions

9

4

2

3

10

12

14

St Louis Suns

9

3

4

2

10

8

13

Anse Reunion

9

2

2

5

10

16

8

St Roch

9

2

0

7

6

24

6

St Francis

9

1

2

6

11

24

5

LightStars

9

1

2

6

20

34

5

R. J-L.