Local Rotary club gets proceeds raised from fishing tournament
18-May-2013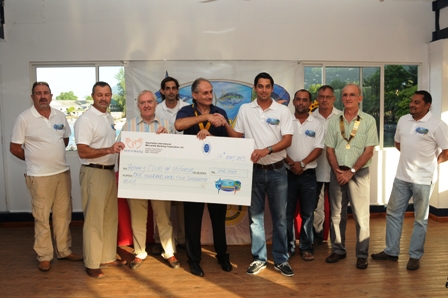 The event – organised by the Seychelles Sports Fishing Club (SSFC) – was held on April 19 in collaboration with the Rotary Club, where over 17 boats took part and almost six tons of fish were brought in.
SSFC chairman Tarak Patel said there were 27 categories of fish and for the first time, fish from all 27 categories were caught, such as sailfish, marlin and yellow fin tuna from the trolling category, sauman, bourgeois, job fish from the bottom fishing category, with a very large catch of bottom fish brought in, and the entire catch was duly sold to the Sea Harvest company.
"We raised a total of R88,000 from the fish and added more money raised from the participation fees from the boats," he said.

The total proceeds were officially handed over to the Rotary Club in a small ceremony held on Thursday. This was at the Yacht Club, and present for the event were the president of the Rotary Club Roland Rassool, and the organisation's vice-president Mario Rotolo.
Mr Patel handed over a cheque for R105,000 to Mr Rotolo, who thanked the SSFC for their support and partnership.

Speaking to Seychelles Nation, Mr Rassool said work on the water harvesting project at North East Point has already started.
"There are other projects which we are targeting, but this will fall in the cadre of the new president-elect Mr Rotolo. The North East Point project is important because there is the North East Point home for the elderly, as well as the hospice, and water storage is very essential, especially during the dry season," he said.