Caterer gives fundraiser gala dinner proceeds to hotel school
20-May-2013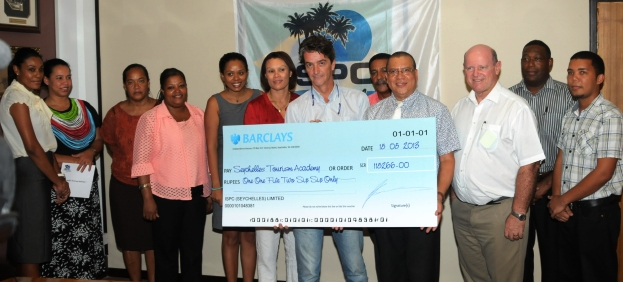 A cheque for R115,266 was handed over by the ISPC chief executive Albert Fourcroy to the STA principal Flavien Joubert, at the headquarters of the Ministry for Tourism and Culture, at the National Cultural Centre yesterday. The gala dinner was held at the STA's La Gaulette restaurant on March 15, which around 80 guests attended.
Mr Fourcroy said it is now three years since they have been working with and supporting the STA and they believe that supporting the academy is a good way to support the hotel industry.
"We believe doing our part is helping to raise quality workers for the industry," he said.
Mr Joubert said the project will begin immediately, and will comprise an existing building which will be renovated to showcase the story of the academy, from the time it was known as the Seychelles Hospitality and Tourism Training Centre (SHTTC) to present date, and will be a living history as it will continue to be updated with every cohort of students that is admitted to the institution.
"Since the Seychelles Tourism Board took over the academy in July 2007 the institution has gone through a massive transformation. So we want to tell the story, and the documentation centre will do just that, showcasing the progress that has taken place there," he said.
The Minister for Tourism and Culture Alain St Ange, who was present at the handing over, thanked Mr Fourcroy in his belief that the STA is the way forward in consolidating the tourism industry.
"If we don't start at the basics, focusing on young people, we won't have chefs, or general managers, or any of the people in the industry," he said.
The ISPC will help host the fourth culinary competition from October 29-31 this year in collaboration with the STA and will begin as usual with a theoretical test and a blind tasting test for the contestants, after which 15 finalists will be chosen, with five in each of the three categories – starter, main course and dessert.