Tourism board and Botanical Gardens Foundation formalise ties
23-May-2013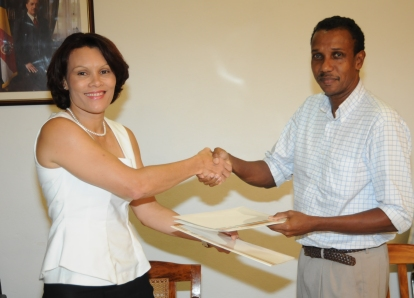 A memorandum of understanding (MoU) was signed yesterday morning at the headquarters of the Ministry of Foreign Affairs by the chief executives of both organisations -- Elsia Grandcourt for STB and Raymond Brioche for the NBGF.
Speaking to the press afterwards, Mr Brioche said the two organisations had been working together for as long as they have existed, and that the MoU is just a formality, cementing the partnership.
Under the agreement, the two organisations will continue to work together and Ms Grandcourt said they will help bring more exposure to the NBGF and to what it has to offer visitors to our islands.

"We want to make more people aware of what the NBGF has to offer, and we will help with distributing brochures, visits to the gardens, and much more, so that visitors know what else we have in terms of biodiversity, as opposed to only coming to Seychelles for the beaches and sea," she said.
"We feel that the environment in Seychelles is still intact and that it should have a bigger role as an attraction to not only visitors but to film crews and other people who come here to learn and capture the beauty of the gardens. The agreement will help in promoting the national assets as well as boost the tourism industry, and the collaboration will maximise the value of assets."
Mr Brioche said the two organisations will collaborate and the STB's expertise in marketing will help the NBGF promote its heritage, which includes the biodiversity centre located at Barbarons.

He added that the NBGF is not being exploited to its full potential and that with this agreement, further steps will be taken to take the foundation to the next level.
"A project is already in place and being finalised, where both parties will benefit," he said.
The signing coincided with the International Day for Biodiversity, which is commemorated on May 22.