Swedish students gain teaching experience at Exceptional School
28-May-2013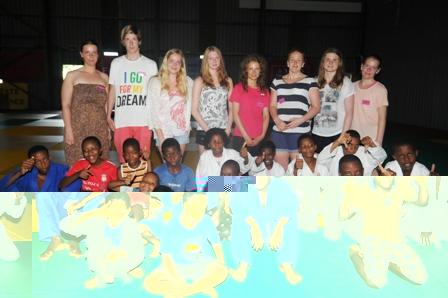 The Roche Caïman school that caters for special needs children from around the country is hosting a group of nine young teachers in training from Sweden.
As we sit in the corridor at the entrance to the school, waiting for our interview to begin, we are greeted by a handful of cheerful children in martial arts clothing. Many of them come to give us handshakes and sit close to us on the bench. But when they see the Swedish students, most of the children jump up to mob them with affectionate bear-hugs.
The children line up and leave for their judo lesson with the Swedish students. One student, who introduces himself as Felix Boman, stays behind and introduces us to his accompanying teachers, Stellan Andersson and Markus Larsson. We are soon joined by the director general for schools in the Ministry of Education, Odile Octave, and the head teacher of the School for the Exceptional Child, Monica Accouche.
The group, whose trip is sponsored by the Swedish government, arrived last week and are set to depart on June 7, and Mr Andersson said the visit is a perfect opportunity for the students to learn more about special needs students and also for the Swedish teachers accompanying them to share their knowledge with their Seychellois counterparts.
"We have heard many positive things about the School for the Exceptional Child, as our school and our country have had a long-standing relationship with the Seychelles," said Mr Andersson.
"This is the first time a Swedish teacher is coming here with students as part of their teacher training."
The students have been spending time with the teachers and assisting with the children for the first week, and Ms Octave said that from this week onwards, the students will begin to plan a few lessons and activities for some of the classes.
"It's been a really good experience," said Felix. "I can understand the children, even though I don't speak their language, through their body language."
Felix, who said he wants to focus on special needs education in the future, said he likes working with children because he believes that every child is unique, special and deserving of love.
"Something that we reflected on very early was that there's such a positive feeling at the school," said Mr Andersson.
"It's easy for us to see that all the children are very happy, and that means the staff have a really good attitude and way of interacting with them."
"In our discussions, one of the students was really impressed with the daily structure of the classes and how, every morning when the students arrive they are greeted in the same way and have activities to provide structure and good routines, which makes it easier for the children to learn basic things."
"Another thing we have noticed is that in Sweden we have a lot of technical support for teaching, and here they don't have it as much, but they are still able to achieve the same results with the materials they have at their disposal," said Mr Larsson.
Ms Octave said that the teacher exchange programme with Sweden had been a long-standing example of cooperation between the two countries dating back over many years, and said four Seychellois teachers from SEC had already been to Sweden in previous years.
"It's a matter of learning from each other and adopting what's good from each other," said Ms Octave.
Stellan Andersson took the opportunity to present Ms Octave with a coffee-table book about the High Coast in Sweden.
"It's a very beautiful place, and it has been declared a Unesco world heritage site – my colleague Markus Larsson lives up there," he said.
"We also want to extend the invitation for Ms Accouche to visit Sweden. But when you get to Sweden you will find it is very cold, so I would like to give you a warm hat you can wear when you get there," said Mr Andersson, handing Ms Accouche a black hat from his school, Dragonskolan, in the north of Sweden.