CBS joins in tree-planting campaign
28-May-2013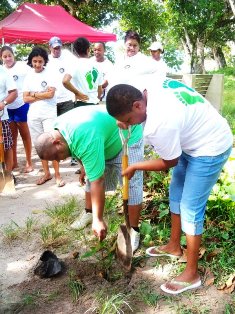 The initiative was done in partnership with the Ministry of Environment and Energy as part of the "20,000 Trees for Life" campaign.
Recently, CBS has embarked on several environment-friendly initiatives including a drive to reduce paper usage and has also launched a tender for the installation of photovoltaic panels for energy production.
As an institution that has been in existence for 35 years, the CBS endeavours not only to contribute towards the country's economic development, but also to a sustainable environment.
CBS Governor Caroline Abel thanked all those who attended and took part for their contribution towards the Seychelles environment, highlighting the duty of CBS to ensure it reduces its carbon footprint insofar as possible.
Special Advisor to the Minister for Environment and Energy, Didier Dogley, thanked the CBS staff present for their time and effort in taking part in the initiative.