Children cry out against alcohol in poster exhibition
03-June-2013
The activity was part of a game's day organised for children at the National Cultural Centre on Saturday.
The exhibition, which is the result of a poster and slogan competition organised by the Drug and Alcohol Council (Dac) in collaboration with the Ministry of Education and the social affairs department, was officially opened by the principal secretary for Social Affairs Linda
William-Melanie in the presence of the minister responsible for social affairs Vincent Meriton, Minister for Education Macsuzy Mondon, Women and Children's Ambassador Erna Athanasius, leader of the opposition in the National Assembly David Pierre, other members of the National Assembly, social affairs and education officials, teachers, parents and children.
In a short speech to mark the occasion, Mrs William-Melanie said that the use of drugs and alcohol was causing havoc in our society and affecting our children, and this is why the ongoing anti-drugs and alcohol campaign has gone down to the children.
She described Children's Day as the perfect moment to sensitise children on the dangers of drugs and alcohol.
"June 1 is a special day as we dedicate this day to the children of Seychelles. Children are anxious to know what parents have prepared for them. Without children, the world would be a dull place.
Children are our joie de vivre. As adults we are the protectors of children. Our children need nurturing and love. Thus, the onus is on parents and educators to help children grow to their full potential," she said.
Mrs William-Melanie called upon everyone to continue to fight alcohol and drugs as children are the witnesses and victims of their devastating effects to society.
She appealed to adults to take the children's messages and feelings echoed in the exhibition seriously, and to spread them to society.
During the ceremony, the three best posters were awarded prizes sponsored by the MNA for English River, Kevin Vidot. The first prize was awarded to Haden Gertrude of Bel Eau while the second and third prizes went to Amira Michel of La Misère and Victoria Verlac of Grand Anse Praslin respectively.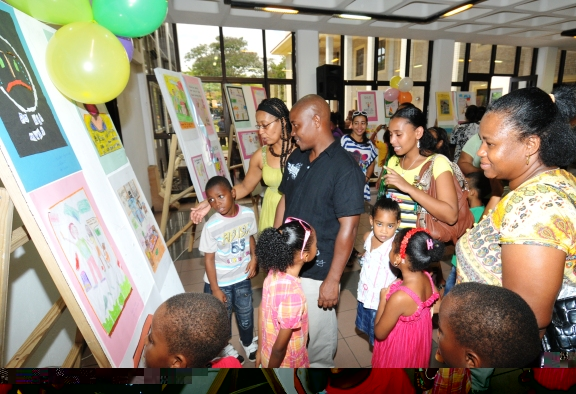 Before going on to enjoy a fun day in and around the National Library, the children had the opportunity to reflect on Children's Day through two young artistic talents who reminded that many children do not have the chance to celebrate Children's Day. Shawn Confiance said 'Thank you God' through a poem, and accompanied by her mother Antoinette, Fabian Dodin sang an adapted version of Ozordi Lafet Zanfan by Raymond Libanotis, and Oscar Harris' 'Song for the children'.