Pillay R Group promotes healthy foods
03-June-2013
The products vary from known brands such as Ribena, Lucozade, Kellog's cornflakes, Swan luncheon meat, Kanny powder milk to other newly introduced ones like Camel cashew nuts, Pascual yogurt and soya drink, and Valle Delle Sole pasta.
A small free tasting fair was organised on Children's Day, Saturday, at one of Pillay R Group's outlets, the Ramajayam Supermarket at Roche Caïman.
The star product on display and available for tasting was the Ceres juice imported from South Africa, which a representative of Pillay R Group, D.V Sharma, proudly described as "the only sugar and preservative free juice in the country".
The juice, which comes in various multiple fruit flavours, is retailed in 200ml and 1 liter cartons costing R6.00 and R22.00 respectively, prices which Mr Sharma termed as "very affordable".
Promoting the Ceres juice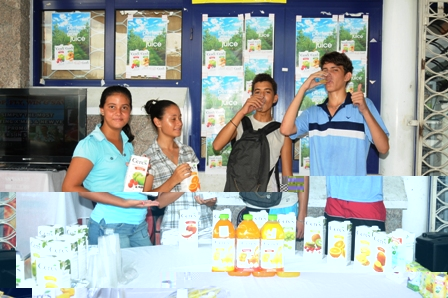 "All our prices are competitive. As examples, nowhere else in Seychelles will you find a 500 gramme packet of pasta retailed at R12.00 or concentrated orange squash, which can produce seven litres of juice, at R35.00. Moreover, in the case of the Ceres juice and the Pascual yogurt, you get a blend of fruits and multiple vitamins which are essential for your health in only one product and at an unbeatable price," he said.
Mr Sharma described the healthy foods promotions as a way of encouraging a more appropriate diet, especially among children.
"Obesity has doubled in less than two years. Thirty percent of the population is now obese and the phenomenon is fast increasing among children. We also have other health problems such as diabetes and dental complications as a result of excess sugar consumption. So Children's Day offers a perfect occasion to sensitise parents and children on the issue," he said.
He said that Pillay R Group will continue to work in close collaboration with the Ministry of Health and the Ministry of Education in finding ways to help make Seychellois a healthier nation.