Seychelles-Botswana relations set to grow
21-June-2013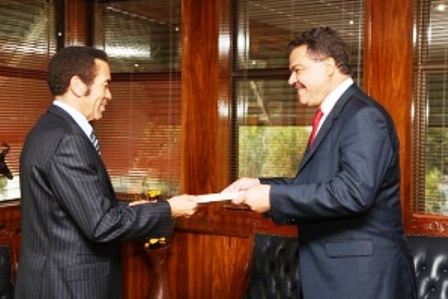 The remark was made by Ambassador Claude Morel after presenting his credentials to the head of state of Botswana, President Ian Khama, at State House in Gaberone on May 21, 2013 as the new non-resident high commissioner for Seychelles.
The discussions that followed the ceremony between Mr Morel and President Khama and senior government officials focused on strengthening relations at both the bilateral and international levels.
From the bilateral perspective, it was agreed to consider promoting Seychelles and Botswana as two-centre holiday destinations, in the same manner as recent arrangements reached with Mozambique and South Africa.
In the health sector, the sharing of experiences in combating the scourge of HIV/Aids will be pursued.
Cooperation in the education sector was discussed as one of the areas where cooperation would be intensified; there are currently four Seychellois at the University of Botswana studying for their degree with the view of joining the teaching profession.
On the international front, the two countries share the common desire to focus on regional integration within the SADC agenda and framework.
The situation in Madagascar was thoroughly discussed. Mr Morel informed his interlocutors of the on-going developments and the contribution of the Indian Ocean Commission in finding a way out of the political crisis through the setting up of a liaison office in Antananarivo which Mr Morel is currently heading.
The merits of the candidature of Seychelles to the United Nations Security Council during the period 2016-17 were also addressed during the exchanges.
President Khama has also accepted President James Michel's invitation to undertake a state visit at a mutually convenient time in the near future.