New scanner to better detect prostate cancer
24-June-2013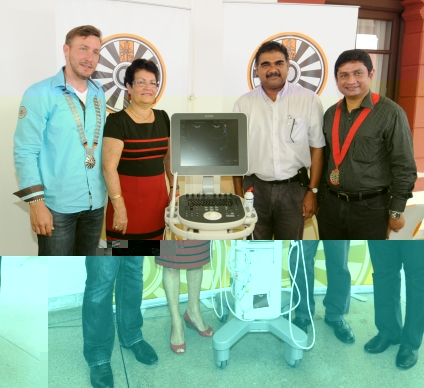 The donation was made in a small ceremony on Friday at the Ministry of Health's headquarters in the presence of the Minister for Health Mitcy Larue, the president of Round Table International Joroen De Graff, his vice-president Moffat Nyirenda, treasurer Dominique Moncheaux, the presidents of Seychelles and Germany Round Table respectively Raja Ramani and Mathian Mueller, principal secretary for health Dr Jude Gedeon and other health staff and Round Table members.
The Round Table International delegation is in Seychelles as part of the organisation's ongoing prostate cancer awareness campaign, and the procurement of the scanner at a preferential price as well as shipment to Seychelles has been facilitated by the German Round Table.
The equipment was paid from the proceeds of the 2011 edition of the Seychelles Regatta, the annual event organised by Round Table, at a price of 17,263 Euros or R284,839.
Accepting the donation from Mr Ramani, Minister Larue thanked the Seychelles Round Table for the scanner which she said will be useful in her ministry's quest to manage cancer by enhancing the capacity to detect the disease, where a considerable increase has been recorded in the number of cases during the last five years, at a more early stage.
Minister Larue added that the donation will strengthen the good cooperation between her ministry and Round Table International.
On his part, Mr Ramani pointed out that prostate cancer is presently the first most common cancer in men, thus the necessity for early tests.
He called upon men to come forward and be tested.
"Prostate cancer is a hidden problem and most men are not even aware of where it is or tend to shy away due to its invasive process of detection. We now have equipment making the detection less invasive and more comfortable. I encourage all men over the age of 40 to take a confident step forward and get themselves tested and lead a healthy life," he said.
As for Dr Laurence Reginald, the consultant in charge of the Urology Unit at the Seychelles Hospital, he described the scanner as a "very good piece of equipment which will not only diagnose prostate cancer but also liver and kidney related ones".
He mentioned smoking, bad dietary habits including alcohol consumption, and genetic factors as the main causes of prostate cancer.
"Smoking and heavy alcohol consumption do not only cause lung cancer, but also prostate cancer which if not treated early leads to paralysis and death. It is also important for men with family prostate cancer history to be regularly screened," he warned.
Dr Reginald said that on average 40 to 45 men are being diagnosed with prostate cancer yearly and treatment, which is successful if administered early, includes medication and surgery.
He added that his unit has since two years ago launched an outreach cancer detection programme for men whereby outdoor clinics are regularly held.
He proposed that the Seychelles Round Table includes cancer detection as one of its activities for this year's Seychelles Regatta to be held from September 27-29 at Beau Vallon.