New ambassador aims for increased ties with Canada
24-June-2013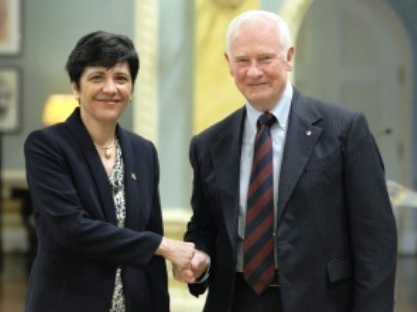 High commissioner Potter presented her credentials to the Governor General of Canada, His Excellency the Right Honorable David Johnston in a ceremony held at Rideau Hall, the official residence of the Governor General in Ottawa earlier this month.
In welcoming high commissioner Potter at the Rideau Hall, the governor general hailed the shared vision that Seychelles and Canada have as members of both the Commonwealth and the Francophonie to work together on the world stage.
In a tête-à-tête following the official presentation, HC Potter acknowledged the strong friendship and excellent relations that have existed between the two countries and thanked the governor general for the help that Seychelles has benefited from Canada over the years.
She expressed the desire to further strengthen avenues of cooperation, notably in the field of education where Seychelles can benefit from help of Canadian teachers, who the governor general remarked were in surplus in Canada.
Both sides agreed to explore avenues of cooperation between Seychelles' only university – University of Seychelles (Unisey) – and Canadian universities.
High commissioner Potter also congratulated Canada for its remarkable achievement in renewable energy production, an area she feels Seychelles could benefit from.
Governor general Johnston was impressed with the beauty of Seychelles.