Learning can be fun!
24-June-2013


This on-going project in collaboration with the Ministry of Education focuses on primary education and teacher training.
The last couple of weeks have been a perfect example of what the project undertakes and shows the fun that can be had from learning about our wonderful underwater world and the reasons why it is vital to value and preserve it.
The sessions run include showing the children photos to excite and inspire them about the underwater world, show movies of sharks, turtles and dolphins to help them see these incredible creatures as they truly are in their natural habitat and also photos that make them think about how our actions can impact this environment and the creatures within it. Along with the visuals they are told amazing facts which are often received with the reaction of an open mouth, an intake of breath and then a massive smile... and often a little chat with their friend sitting next to them!! Of course as always there is a lot of leaping around to marine life songs about turtles, sharks and stingrays.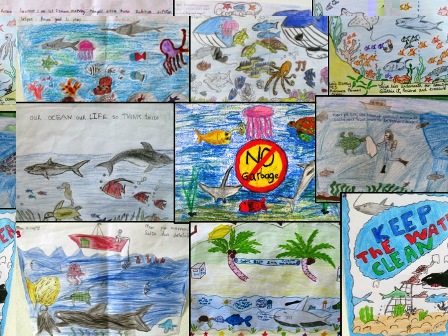 The last couple of weeks have coincided with World Ocean Day on June 8, a perfect opportunity for us all to think about what we do to impact the marine environment and turn any negatives into positives.

For the children at Plaisance primary school, they put what they had learnt about not polluting our oceans and putting our rubbish in the bin into artwork. Abbie had the hard job of choosing a 1st, 2nd and 3rd place for Cycle 1 (P1 and P2), Cycle 2 (P3 and P4) and Cycle 3 (P5 and P6) and the children got some amazing SOSF books and wrist bands as prizes. The winners were as follows: Cycle 1; Justin Sims (1st), Shadiyah Panagary (2nd) and Josh Arnephy (3rd); Cycle 2; Yann Dinan (1st), Joshua Nourrice (2nd) and Arabelle Sopha (3rd), Cycle 3; Loic D'Offay (1st), Natasha Ernesta (2nd) and Carlo Marzocchi (3rd). All entries were fantastic with some wonderful messages within the drawings too.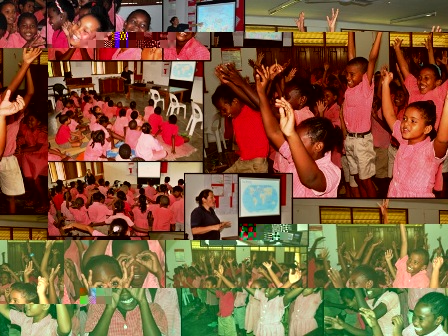 World Ocean Day is also a great excuse to celebrate our oceans and Anse Etoile primary invited Abbie along to the school for games, puzzles, colouring, crafts and songs. With the welcome help of some of the Academy by the Sea students, a very fun afternoon was had, with the creation of marine life headbands being the favourite activity of the day!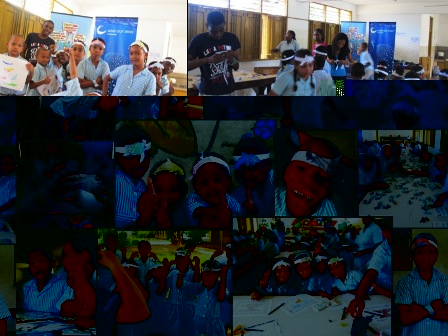 The children are not the only ones who receive these marine awareness sessions. Abbie has been working her way round all the schools in Seychelles giving hour-long sessions for the teachers during their weekly Professional Development classes.

For those schools already visited once Abbie has returned to "Test the Teachers"!! Bel Ombre primary were the first to be quizzed! The teachers were split into groups and given something that would make a lot of noise; tins, shakers, rattles etc. At first the teachers were quite quiet but it did not take long for a hilarious and very noisy session to unfold. Abbie will be using this form of teaching in other schools especially as among the noise and laugher there were mainly correct answers to the questions. Gold star to all the teachers!