37th annual Inter-School Athletics Championships-Events scraped, new prizes on offer
24-June-2013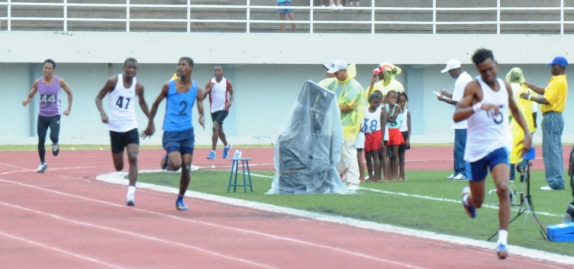 Speaking to Sports Nation, physical education and co-curriculum support section director Wilfred Adrien said the organisers have been looking at ways to make the championships shorter as the competitors reach home late while those from Praslin and La Digue can't wait for the prize presentation ceremony as they have to catch the boat to return home.
Mr Adrien noted that the 1,500m race in the open male category has been removed from the programme as well as the six medley relay races in the female and male under-16, under-18 and open categories.
"The main reason for these changes is that the Ministry of Education wants the championships to finish at around 4.30pm so that students can reach their respective districts and homes before it gets dark," said Mr Adrien.
He added that at the end of Saturday's championships contested by athletes from state and private educational institutions, new trophies will be awarded to schools who win the most gold medals in the following three categories – primary, secondary and post-secondary.
This coming Saturday's championships will start at 10am at Stad Linite.
La Digue (primary), Anse Royale (secondary) and Seychelles Police Academy (post-secondary) are the defending category winners.
While La Digue primary and Seychelles Police Academy (SPA) retained the best primary and post-secondary titles won in 2011, Anse Royale returned as secondary winners at the end of last year's annual Inter-School Athletics Championships – the major event organised to celebrate the country's Independence anniversary.
La Digue, who returned as primary winners in 2010 after a very long wait, made it three wins in as many years with 145 points after amassing 14 medals – eight gold, four silver and two bronze.
Grand Anse Praslin (114) and Anse Royale (91) finished second and third overall in the primary category.
After taking over the honours from Maritime Training Centre (MTC) in the post-secondary division in 2011, the Seychelles Police Academy (SPA) retained the title with 267 points, winning 34 medals – four gold, 22 silver and eight bronze.
With 214 points and 18 medals – 15 gold, two silver and one bronze – Business Studies and Accounting finished second, while 2010 winners MTC finished third with 20 medals – two gold, seven silver and 11 bronze. Despite winning the most gold medals in this class, Seychelles Institute of Technology settled for fourth place with 184 points.
After Praslin broke their heart in 2010 by succeeding them as secondary champions, Anse Royale returned to winning ways last year with 374 points after collecting 35 medals – 11 gold, 15 silver and nine bronze.
Cascade succeeded Grand Anse Praslin as the winners of the President's Fair Play Cup for competitors at primary level with 106 points.
La Digue kept the secondary level cup with 138 points and SPA did as well, retaining the President's Fair Play Cup for competitors in the post-secondary category with 139 points.
President James Michel gave out the Fair Play cups.
The special under-14 best primary cup travelled to Praslin again last year after Grand Anse primary succeeded Baie Ste Anne primary with 17 points. Grand Anse primary finished ahead of runners-up Bel Eau (6) and third-placed Pointe Larue primary (5).
After winning the best small primary school title in 2011 – the year it was introduced – Au Cap retained it last year after again amassing 56 points. Takamaka (28 points) and La Retraite (20) were second and third.
The following were last year's category winners: La Digue (girls' under 8 with 21 points, girls' under 10 with 35 points, girls' under 12 with 43 points), Bel Eau primary (boys' under 8 with 20 points), Au Cap primary (boys' under 10 with 21 points), Anse Royale primary (boys' under 12 with 31 points), Praslin secondary (girls' under 14 with 46 points, boys' under 14 with 51 points), Anse Royale secondary (girls' under 16 with 94 points, boys' under 16 with 86 points, boys' under 18 with 64 points), Plaisance secondary (girls' under 18 with 115 points), Business Studies and Accounting (girls' open category with 173 points) and Seychelles Institute of Technology (boys' open category with 181 points).
Young Seychellois athletes also smashed 18 track and field records last year and the total was a significant improvement from the total of six registered in 2011.
G. G.