Chinese navy commander in talks with minister, defence chief
25-June-2013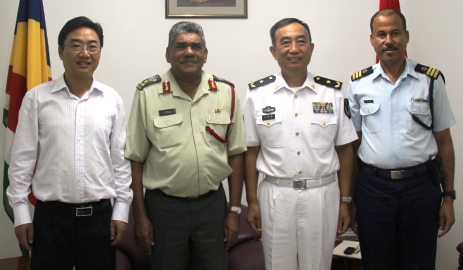 Present at the talks was Chinese ambassador to Seychelles, Shi Zhongjun.
Minister Morgan and Brigadier Payet spoke highly of the performance by Chinese navy soldiers in the National Day Parade on June 18.
Being the first time that Chinese soldiers took part in the national parade, Minister Morgan and Brigadier Payet urged the Chinese Navy to visit Seychelles more frequently and to take part in more activities.
Minister Morgan said that in recent years, as anti-piracy cooperation strengthened in the Indian Ocean, more countries and more navy ships have come to Port Victoria.

He said he hoped the Chinese navy had enjoyed the hospitality, culture, cuisine and everything Seychelles has to offer.
Brigadier Payet said Seychelles appreciated the help of the Chinese government to the Seychelles army, and the effort and coordination made by Chinese embassy.
"Among all the countries with which we have established good relations, China comes as the first. We are brothers and sisters, we have to work together," he said.
During his visit, Admiral Yuan Yubai, accompanied by Ambassador Shi, also visited the Seychelles Coastguard base and the RAPPIC, and exchanged experiences on anti-piracy and other matters relating to maritime cooperation.