Darts: President's Cup-Port-Louis adds silverware to trophy cabinet
25-June-2013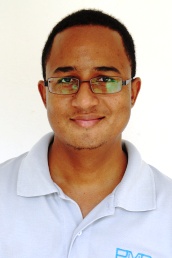 On Saturday at the Cascade community centre, Port-Louis, who lost last year's final, produced probably his best display of the season in front of fellow players and darts enthusiasts to shoot to victory in the annual President's Cup singles competition and add another piece of silverware to his cabinet of trophies.
Port-Louis won the best-of-seven 501 final on a 4-1 score against Ranga Chetty. After taking the first two games, Port-Louis allowed Chetty to reduce the arrears to 2-1 before making the better calculations and throwing the darts much better to take the next two games to power to victory.
Playing in pool 'B', along with wife Debra, Port-Louis finished as the second best player with six points – one less than the total of group winner Arthur Pool.
Nichol Esparon topped group 'A' with nine points and he lost 0-2 to Chetty in the quarterfinals. Chetty then dispatched Collin Esparon 3-2 in the best-of-five semifinals.
Eventual champion Port-Louis did not drop a game in the quarter and semifinals, trouncing Jean Belle 2-0 and whitewashing Richard Irimani 3-0.
Port-Louis not only took home the President's Cup, he also recorded the highest bull finish of 100+ with a score of 123, while losing finalist Chetty registered the highest score of 180.
Collin Esparon finished third overall thanks to a 3-2 win over Irimani in the third place play-off.
Three female players – Monia Delpeche, Debra Port-Louis and Thara Boniface – took part in the competition which attracted 21 players who were divided in two groups of 10 and 11. The top four in each pool progressed to the knockout phase at the end of the round-robin league system.
Last year's winner Paul Vidot did not progress past the group phase after finishing with five points and he watched as Port-Louis succeeded him as champion.
The following are the President's Cup winners since the year 1999: Terrance Hallock (1999), Morel (2000, 2002, 2003, 2004, 2005, 2006 and 2010), Patrick Radegonde (2007, and 2009), Robert Magnan (2008), Bernard Berlouis (2011), and Paul Vidot (2012).
G. G.