Football-Goalkeepers trained to train others
25-June-2013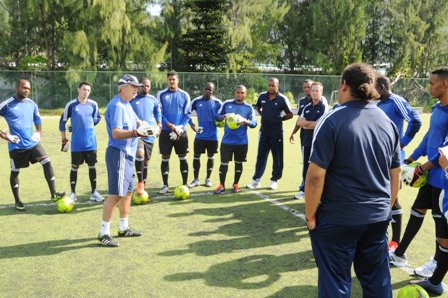 With Fédération Internationale de Football Association (Fifa) continually helping with the development of football in Seychelles, a Fifa instructor, Alejandro Alex Heredia, has since yesterday been giving training to local goalkeepers at the Maison Football, Roche Caïman.
The training had originally been planned for goalkeeping coaches, but as not all teams possess a goalkeeping coach, the teams opted to send their goalkeepers instead. Due to a lack of equipment however, only 10 goalkeepers are taking part in the practical sessions of the course.
Fifa and Confederation of African Football (Caf) instructor Heredia is conducting the course that will run for five days.
Heredia is the head of coaching at the South Africa Football Association (Safa) and has previously conducted goalkeeping courses and seminars in South Africa, Namibia, Zimbabwe, Botswana as well as in Central and South America. The Argentinian is also the goalkeeping coach with the Platinum Stars team in the Absa Premier League in South Africa.
It is hoped that this training will help improve and possibly groom quality goalkeepers for clubs and the country's different age category teams.
S. N.