Papaya mealy bug species confirmed
28-June-2013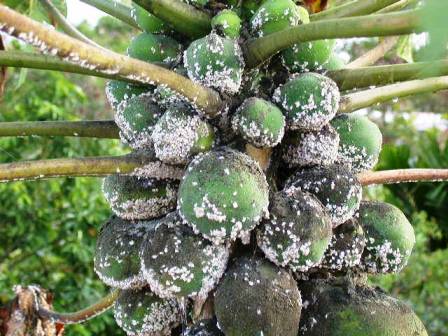 The National Plant Protection Office (NPPO) within the Seychelles Agricultural Agency (SAA) officially confirmed the pest species recently after it received test results from neighbouring Reunion Island.
"Through the regional cooperation from CIRAD, a research centre in Reunion, we have just received results which confirm our preliminary identification that the pest species is the papaya mealy bug known as Paracocus marginatus," said Randy Stravens, principal officer at the NPPO.
The papaya mealy bug is a small polyphagous sucking insect with pest status that attacks several genera of host plants, including economically important tropical fruits, vegetables and ornamentals plants.
In response to the new pest problem, Mr Stravens said the NPPO is in the process of completing a programme of action to continuously help growers to manage the infestation of the papaya mealy bug.

The pest has been reported in the region of Madagascar, Comoros, Reunion and Seychelles with high infestation observed during the first quarter of 2013.
In Seychelles the pest has also been noticed on Praslin and La Digue.
Papaya mealy bugs are most active in warm, dry weather. Females have no wings, and move by crawling short distances or by being blown in air currents.
The infestation of papaya mealy bug can be observed on a wider range of cultivated crops and weed hosts belonging to different families of plant kingdom.
The NPPO is still conducting work on host study to determine the different hosts of the pest species in the country.
Mr Stravens said that with rapid development, high survival rate, and enormous reproductive capacity, Paracoccus marginatus population could potentially reach a high level. Wax layer and waxy fibres over the ovisac and body of mealy bug nymphs and adult females protect them from adverse environmental conditions and routine chemical pesticides.
Growers are encouraged to use Lastraw, a bio-product which has been proved to be very effective in controlling the pest. Registered farmers who are certified to use pesticide application can apply Ultracide as a last resort.
The use of these products can help significantly in reducing and controlling the papaya mealy bug population at an acceptable level.
In the meantime the NPPO is still exploring other control methods and products that can be adopted and used for more effective control of the pest.
The NPPO is emphasising the practice of inter quarantine to restrict the movement of this pest being introduced to other islands of the Seychelles archipelago. Therefore we urge all boat owners, island managers/owners and the general public not to carry and/or transport any infested plants and plant products to other islands.
For more information people should not hesitate to contact NPPO officers on 4611475/6/7/8 or 4611788 or email: This email address is being protected from spambots. You need JavaScript enabled to view it.
Contributed