State visit of Sri Lankan President Mahinda Rajapaksa- Seychelles, Sri Lanka sign three cooperation accords
01-July-2013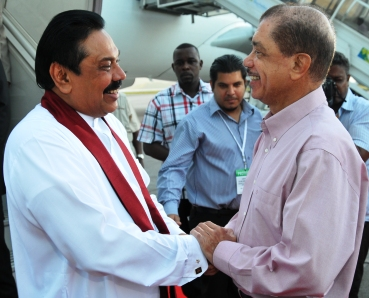 The ceremony was witnessed by President James Michel and Sri Lankan President Mahinda Rajapaksa who is here on a historic three-day State visit at the invitation of the Seychelles head of state.
Mr Rajapaksa was warmly welcomed on arrival at the Seychelles International Airport last Saturday afternoon by President Michel, Vice-President Danny Faure, Speaker of the National Assembly Dr Patrick Herminie, chief justice Fredrick Egonda-Ntende, and the president of the Court of Appeal Francis MacGregor, ministers, chief of defence forces Brigadier Leopold Payet and other key dignitaries.
Representatives of the local Sri Lankan community were also present to welcome the Sri Lankan President who is accompanied by a high level delegation that includes the Minister for External Affairs, the Minister for Sports, the Minister for Public Relations and Public Affairs, and members of Parliament among other high level staff.
Speaking after the signings, Foreign Affairs Minister Jean-Paul Adam said that "the Seychelles and Sri Lankan governments have both recognised the potential for greater cooperation between our two peoples, and it is with this in mind that we have been working tirelessly to create the necessary frameworks and opportunities for these mutually beneficial engagements to take place".
Home Affairs and Transport Minister Joël Morgan signed an air service agreement paving the way for the establishment of air links between Seychelles and Sri Lanka.
President James Michel welcomed the decision, adding that the air links would boost trade and tourism between Sri Lanka and Seychelles.
"The new flights will surely open doorways for business, tourism, cooperation and trade exchanges between Seychelles and Sri Lanka. Seychelles can become a gateway to Africa and other parts of the world. The air links will be a catalyst to ensure increased cooperation between our two countries," said President Michel.
The Minister for Education, Macsuzy Mondon, signed a memorandum of understanding (MoU) with the Sri Lankan Ministry of Youth Affairs and Skills establishing the framework for close cooperation in areas of vocational training and youth development. The MoU also outlines an annual leadership programme for 25 Seychellois youth in Sri Lanka.
Minister Adam himself signed an MoU on cooperation between the Seychelles Ministry of Defence and the Sri Lankan Ministry of Defence and Urban Development. This agreement allows for greater exchange of military delegations of all levels and exchanges in the areas of defence education and equipment and technical cooperation.
The Sri Lankan Minister for External Affairs, Professor G L Peiris, signed the agreements, on behalf of the Sri Lankan government.
During a press conference later at the Kempinski Resort, Baie Lazare, Minister Adam and Prof. Peiris talked of the strength of the relationship between the two countries and the efforts the two leaders are deploying to build on the partnership of mutual benefits.
"This partnership is not only on paper but is practical with high level exchange visits every month," said Minister Adam.
Mr Adam noted that the two countries are gateways to different parts of the world – Seychelles to Africa and Sri Lanka to Asia – and added that SriLankan Airlines will be flying to Seychelles possibly before the end of this year although everyone recognises that aviation is a complicated business.
There is also a possibility of code-sharing between the SriLankan Airlines and Air Seychelles.
In the financial sector, the Bank of Ceylon of Sri Lanka is to open a branch here and Prof. Peiris noted that this can become a reality by October.
He noted that Seychellois businesses in the tourism, investment and fisheries sectors – be they big or small – can bring their expertise to Sri Lanka and vice-versa. For his part, Minister Adam noted that 93% of long liners in Seychelles have been built in Sri Lanka.
The MoU with the Sri Lankan Ministry of Youth Affairs and Skills to establish the framework for close cooperation in areas of vocational training and youth development, presents an opportunity for young Seychellois and entrepreneurs to tap into the existing possibilities in Sri Lanka.
"Sri Lanka understands that no matter how many degree holders you have you also need to have technical people. What Seychelles is able to tap into in this agreement is to have our own people trained in technical courses like mechanics. This will allow us to build on Sri Lanka's expertise and at the same time bring practical solutions to our education sector," said Minister Adam.
Prof. Peiris noted that President Rajapaksa is pleased with what has been accomplished between the two countries since President Michel visited Sri Lanka in August last year.
"This is a perfect example of good bilateral relationship between two countries. It is structured and sequenced," he said, adding at the two island states have much to contribute to the architecture of the world in regards to economy and other fields.