37th annual Inter-School Athletics Championships-15 records shattered
01-July-2013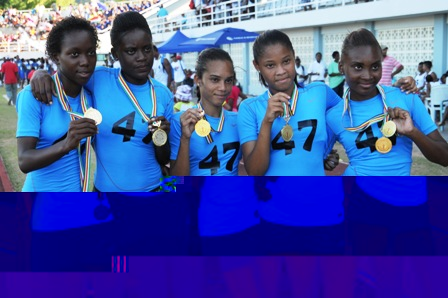 Held on June 29 to mark the country's Independence Day, the championships were once again the main attraction this year and they were largely successful.
Before the start of the competition, Minister for Education Macsuzy Mondon said that a new, better coordinated and well-monitored school sports system will be introduced soon to enable children to enhance their physical health.
The Ministry of Education is working with the Ministry of Social Affairs, Community Development and Sports on the programme.
Minister Mondon added that physical education in schools will continue to get prominence.
Seychelles Police Academy's Jack Perreau and Nattyfa Mathiot took the oath on behalf of all athletes, while Monica Samson and Fed Hypolite did the same on behalf of all officials.
The competitors competed in a good spirit and it was fantastic to see Seychelles Police Academy athlete Nerry Luc offer Ned Azemia a small compensation for breaking his boys' U18 400m record of 51.04s set in 2010. It was a nice showing of fair play between the two athletes.
The first record of the day was set by Zarah Farabeau from La Rosière primary school in the 80m girls U8. She crossed the finish line in a manual time of 13.0 seconds to break La Retraite's Shanita Marie's record which stood at 13.2 seconds and set in 2008. Zarah was proud of her achievement.
Jana Malbrook of the school of Business Studies and Accounting won the girls' open high jump by clearing the bar at 1.50m to improve Petra Richard's 1.48m set last year.
Pleased with her achievement, Jana told Sports Nation that although she did not train a lot prior to the championships, she came all out to break the record and eventually did it.
Natasha Chetty of Plaisance secondary set a new record in the girls' U14 high jump with a height of 1.45m, improving the 1.42m record previously set by Nayelie Etienne of La Digue during the heats.
Natasha was pleased with her performance though she said she was not expecting to break the record as she feared Nyayelie Etienne would win.
Stephie Dubel told Sports Nation she had trained a lot and it proved helpful as she got a first record for Perseverance primary school by almost a full second in the girls' U12 200m race. Dubel finished with a record time of 28.70 seconds, shattering the long standing record of 29.52 seconds set by Larisha Morel of Anse Royale school back in 2005.
Meryle Rabat of Anse Royale finished the girls U14 400m race in a time of 1 minute 04.7 seconds (1:04.7s) to break La Digue's Praktima Radegonde's 1:05.6 seconds set in 1998. Meryle said the race was really tough and thanked her coach and mother for helping her to achieve this record.
Greg Hollanda praised his coach for his advice which he said helped him clock a new electronic timing record of 57.83s in the boys' U14 400m. The previous record was held by Aaron Tirant since 2009 and it stood at 59.03 seconds.
Ezra Almaze broke the girls' U18 400 record held by Louisianna Françoise for 16 years. Almaze of the Plaisance secondary school clocked 1:01.7 to erase Françoise's time of 1:01.9 from the record books.
Ned Azemia from Anse Boileau school broke Nerry Luc's electronic timing record of 51.04s when he crossed the line in 50.32 seconds in the 400m for boys U18.
Azemia said he had prepared to attempt to break the record and duly managed. Luc set the previous record in 2010.
Azemia broke his second record of the day in the 800m boys U18 race when he lowered Hansel Elizabeth's 2:04.1 time by clocking 1:59.41s. Elizabeth's record had stood since 1999.
Marie-Helen Rose of Maritime Training Centre (MTC) improved her own record set last year in the girls open shot put with a distance of 11.50m. Her previous record stood at 10.48m.
She told Sports Nation that she was expecting to better her record as she was taking this championship as a preparation for the other higher level event she will be competing in this year.
Dean William of MTC broke Alvin Nassib's 12.72m record set in 2007 by throwing the shot out at a distance of 13.22m in the boys' open category.
The old 800m boys' open record was also beaten by Kevin Harryba from MTC and he finished the race in 2:03.81 to erase Marty Fanny's 2:05.85 from the books. Fanny set the old time in 2007.
Harryba was happy as last year he also managed to set a new record.
In the 4x60m relay for the girls' U8, the La Digue team set a new electronic record of 41.98 seconds, breaking Anse Royale's previous record of 42.00s which stood since 2003.
Seychelles Police Academy set a new 4x100m relay girls' open record by finishing in a time of 52.18 seconds to improve their own record of 52.30s set in 2012.
The Seychelles Institute of Technology managed to set a new electronic timing record of 44.57 seconds in the boys' open 4x100m relay. SIT held the previous record of 44.59 seconds since 2005.
Meanwhile, Noris Brioche of Praslin equalled his own boys' U18 high jump record of 1.87m set during the heats.
S.N