Sri Lankan president plants coco-de-mer seed at Biodiversity Centre
02-July-2013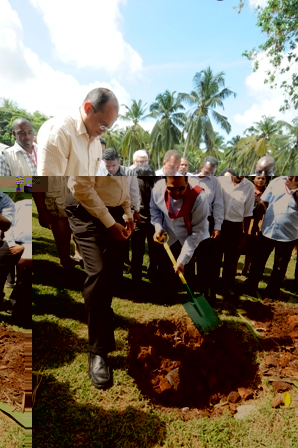 Sri Lankan President Mahinda Rajapaksa planted a coco-de-mer seed on his first state visit to Seychelles in a tree-planting ceremony held at the centre yesterday.
The biodiversity centre seemed an oasis of calm for those more used to the hustle and bustle of working at their offices in Victoria, and the assembled guests gathered in the VIP park with spongy grass underfoot and birdsong echoing from the surrounding trees.
Didier Dogley, who serves as the special advisor to the Minister for Environment and Energy, informed me that the deep gash dug in the otherwise beautiful landscape would soon become a water feature to further add to the tranquility of the place. For the time being, he said in jest, we would have to get by with simply imagining the sounds of water trickling by.
The arrival of the visiting president brought with it a flurry of accompanying Sri Lankan cameramen and journalists, who jostled with the local media for room around the hole which would be the site for the tree-planting.
The visiting head of state was accompanied by the Minister for Environment and Energy, Rolph Payet and his principal secretary, Wills Agricole, who guided him around the park and showed him the trees planted by other VIPs, including the coco-de-mer planted by President James Michel, which has now grown to a height of about 30cm.
President Rajapaksa obliged the crowd by placing the world's largest seed into its waiting bed, but slight chaos ensued when his surrounding protocols realised one of his shoes had become soiled, somewhat literally. The offending shoe was removed, wiped clean and placed back on the presidential foot without delay, after which the president proceeded to shovel the topsoil on top of the seed.
The Sri Lankan president inspected the plaque which would be placed next to his tree and was presented with a ceremonial plaque to take home.
"We would like to present you with this certificate," said Professor Payet, handing him the small wooden plaque, "to keep as a memento for future generations. If your children come to visit this place one day in years to come they can bring it and say 'my father planted this amazing tree'."