Cycling-Eco riders dominate 114km race
03-July-2013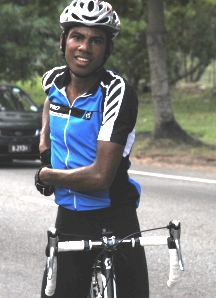 The first two places in the 114-km Chez Deenu-sponsored Independence day race were taken by Eco cycling riders – Dominique Arrisol and Francis Louis – who clocked identical times of 3 hours 07 minutes (3h07).
Reigning cyclist of the year Edward Pothin the St Francis club completed the podium in third place with the same time. Fourth place was occupied by Fadi Confiance of Eco cycling club. He took clocked 3h07.
Eco cycling club's Chris Germain was fifth in 3h13, followed by Journey cycling club's …..Alphonse (in 3h15), St Francis' Roy Mougal (in 3h15), Journey's Ahmad Arissol (in 3h15), St Francis' Ricky Rosalie (in 3h40), and Journey's Mario Joubert (in 3h44).
The overall fastest team title went to Eco cycling club with a combined time of 9h21, followed by St Francis with 9h01:20 and Journey with 9h15:14.
S. N.