Provincial archbishop preaches in special mass
08-July-2013
Rev. Ernest giving his sermon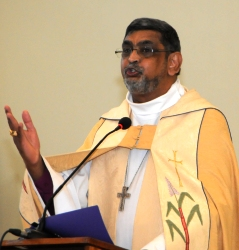 He said this during a special mass yesterday to mark the provincial youth Sunday at the St Paul's Cathedral. It was also the sixth Sunday after trinity.
After songs of praise, prayers, first and second readings and the Gospel were read, Reverend Ernest gave his sermon.
He said being a youth is an important time in an individual's life.
Rev. Ernest added that it is equally important to bring back into focus who we are and to bring ourselves close to Jesus.
Also present for the mass were Bishop James Wong and other members of the Anglican clergy.
Rev. Ernest is on his arch-episcopal visit to the Seychelles Anglican diocese from July 5 to 8.