New family fun park to be ready in three months
09-July-2013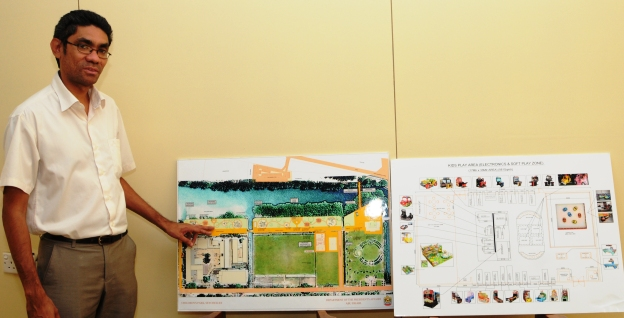 Construction work on the project at La Promenade at the ex-music stadium near the Peace Park is expected to start this month.
The new family fun park aims to replace the existing children's playground in Victoria which is in a poor state with most of the facilities and toys beyond repair.
The principal secretary for Project Planning and Implementation in the MLUH, Yves Choppy, has said facilities at the park will also include a food court with six different kiosks equipped with kitchen and other amenities.
Access to the park will be free but apart from the normal toys similar to those at the old playground, the new park will also have electronic and video games which will require special coins for them to operate.
"These will include cars, video games and a new attraction will be an artificial ice skating ring," Mr Choppy said.
The project, which is costing some US $3.5 million, is being jointly funded by the Abu Dhabi and Seychelles governments.
"The major part of the funding for the project is through a grant from the Abu Dhabi government which has chosen Ascon as the company to carry out the project," Mr Choppy said.
Meanwhile officials from the MLUH have been holding a series of meetings with representatives from other ministries and department to discuss and decide on how best to manage and maintain the park.

With regard to security issues, as it is a known fact that there have been a number of incidents including a fatal one in the area in the recent past, Mr Choppy said with the new project soon to start and a new management to run the place, it is expected that all security threats will be eliminated.
Mr Choppy further noted that if all goes according to plan the park is expected to be ready in October.