Skippers urged to slow down at new fishing port building site
12-July-2013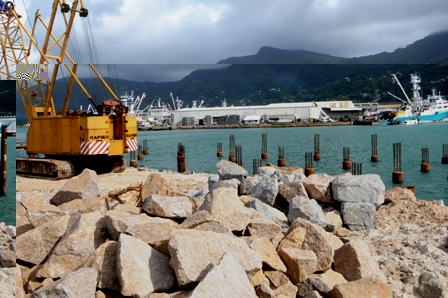 The Seychelles Maritime Safety Administration (SMSA) has issued the alert following concerns over the safety of its workers by Vijay Construction, the company working on the project.
Fishing boats coming in and leaving the area are being urged to also avoid navigating too close to where construction works are being carried out as this creates big waves which increase the flow and level of water under a small pontoon which the workers are using.
SMSA's director general Captain Joachim Valmont said yesterday all fishermen, mariners and boat owners are being asked to maintain the five-knot speed limit imposed for the area or reduce it further or navigate as far away as possible from the construction site area.
"This is important if we want to prevent an accident where the construction workers get washed away from the pontoon or get stuck under the concrete structure being built," said Capt. Valmont.
He said the construction works are expected to last for two to three more months.
Capt Valmont said the SMSA and its partners, the Seychelles Port Authority and the Seychelles Fishing Authority, will be putting up a warning sign in the area in the coming days.