H. Savy Insurance supports children with cerebral palsy
13-July-2013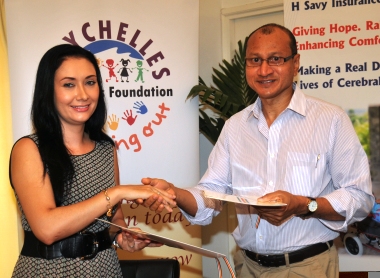 This will possible now that a memorandum of understanding (MoU) has been signed between the Seychelles Children's Foundation and the H. Savy Insurance (HSI) firm.
The accord was signed by First Lady Natalie Michel who is also the chairperson of the foundation and HSI general manager Lambert Woodcock yesterday at the foundation's office at Bel Eau.
Under this agreement, the insurance company will make available the sum which will be used to sponsor wheelchairs, special adaptive aids and nutrients for children with cerebral palsy.
Present at the signing ceremony were Minister for Health Mitcy Larue, Chargée d'Affaires of the Embassy of the Order of Malta in Seychelles Alexandra Azaïs, chief executive of the foundation Noella Gonthier, chairperson of HSI Jean Weeling Lee and several other representatives of the company.
The agreement forms part of the foundation's ongoing efforts to engage the business community and other partners to reach out to children needing special attention in Seychelles.
It is also an addition to the existing projects and programmes under the 'A friend in me project', which offers support to special needs children, those in hospital or in situations of distress among others.
The foundation will work closely with the Ministry of Health and the National Council for the Disabled so that these children will benefit under the agreement.
The accord is a culmination of discussions with HSI to highlight the plight of children with cerebral palsy and their families.
Through the foundation, HSI has already helped two children with the condition with wheelchairs specially adapted for their needs.
Mrs Michel thanked HSI for making a difference in the lives of those children.
She added that this partnership will help bring more awareness to this condition.

Mrs Michel also expressed words of thanks to the Ministry of Health and the National Council for the Disabled.
Mr Woodcock said this partnership will bring better comfort to the lives of special needs children.
He added that following the donation of the two wheelchairs recently, the company was moved and so decided to support this cause as part of the HSI social corporate responsibility.