Care Rainbow football project-Using football to promote positive character building
13-July-2013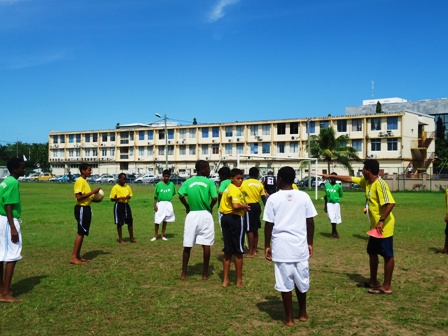 The project aims to support the school in shaping the students with undesirable behaviour to promote positive character, attitude, resilience and social skills.
Twenty boys aged 12 and 13 years from the Mont Fleuri school are already enrolled on the recently launched project which is being carried out by the Campaign for Awareness, Resilience and Education against substance abuse (Care). This is being done in partnership with the Mont Fleuri school, the Seychelles Football Federation (SFF), the National Youth Council and Barclays Bank (Seychelles).
The larger part of the training will be led by trainers and volunteers who will seek to equip the pupils with the necessary football skills, while Care officers are responsible to promote a holistic approach to character building.
The project is also receiving help from such partners as the SFF which has donated 22 pairs of shoes, 10 footballs, 20 T-shirts. The SFF has also promised to give some sets of uniforms as well. It is expected that while developing their football skills, the process will promote the concept of fairness, tolerance and foster mutual understanding in the young pupils and thereby contribute to a positive development of personality and character in them.
Care noted that such a project will not only enhance the skills of the pupils in football, which is their area of interest, but also improve their behaviour. This complements Care's work which involves helping young people inculcate life-enhancing goals and enhance positive personality development. As such, young people can often be misguided and lured into negative habits and self-destructive behaviour patterns through ignorance and self-direction or negative peer pressure. It is therefore important to develop in children and youths a need to seek out and know their mission in life to have a strong base to build on.
One of the early practical habits to instill is to get children to become familiar with their strengths and build upon them plus identify and work on their weaknesses, which the football team is using to achieve something.