Vijay donates to home for the elderly
13-July-2013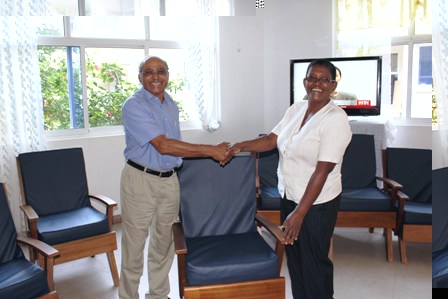 V.J. Patel, the managing director of Vijay Construction, earlier this week handed over the 14 chairs to Isabelle Joubert, nurse manager of the home during a short ceremony which was attended by Health Minister Mitcy Larue, officials from her ministry, members of staff of the home and some residents.
Addressing all those present for the event Mr Patel said it is always a pleasure to be able to lend a hand so that some people can have a little more comfort than before.
"It is always a great pleasure for us to help out in situations of such nature," added Mr Patel.
Ms Joubert on her part expressed sincere gratitude to Mr Patel on behalf of the Health Ministry for this generous donation of lovely and comfortable chairs, another of several contributions the company has made to the home.
"We note that this is not the first time that you have answered our call for help," said Ms Joubert.
She called on Mr Patel to spare some minutes to tour the garden of the resident which his company sponsored in the recent past.
"Vijay Construction continues to answer the Health Ministry's call for individuals, families and communities to work together with the ministry to care for the needy," added Ms Joubert.
She noted that these chairs will serve special purposes now that a day room is being set up where the elderly residents can enjoy a host of therapeutic activities.
"Considering their age it is vital that their sitting facilities provide safety and comfort and that they can rest where and when required without going back to bed," Ms Joubert pointed out.
"We thank you for this much appreciated donation and look forward to continue working with your company in the future," said Ms Joubert.