Football-Spanish keeper Casillas and girlfriend holiday here
13-July-2013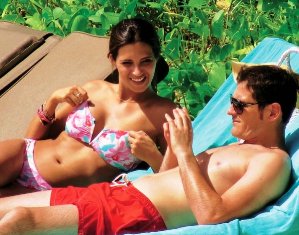 Casillas and girlfriend Sara are expected to become parents for the first time. Sara is believed to be 14 weeks pregnant.
The Spanish goalkeeper had a tough 2012-2013 season, sustaining a hand injury and had multiple altercations with José Mourinho, the former coach of Real Madrid, who relegated the star guard to the substitutes bench.
In 2008, he was the captain of the Spanish team who won their first European Championship in 44 years. The Spanish team went on to win Spain's first World Cup (a tournament in which he won the Yashin Award) and the 2012 European Championship.
Casillas has been nominated for the European footballer of the year award twice, ranking fourth overall in 2008 and again receiving more votes than any other goalkeeper in 2009. At the end of 2012 he was voted into the UEFA team of the year for the sixth consecutive time, a record he shares with Cristiano Ronaldo.
As of 2011, Casillas is one of a very select group of players who have won all major club and national championship titles.
In 2010, he was awarded the Sports Prince of Asturias Award. On October 19, 2010, Casillas became the most capped goalkeeper of all time in the UEFA Champions League and in November 2011, he became the most capped player of all time for the Spanish national team.
The first photos of the couple on holiday in Seychelles have already made the buzz on the web and social networks.