New pharmacy offers health care products for young and old
15-July-2013
The pharmacy, which belongs to Dr Murthy, is being run by Selva Kumar N, a pharmacist who has a Master's degree in this field.
Products come from United States, United Kingdom, Mauritius, India and South Africa.
Life Care pharmacy offers products for children and adults alike.
Steriliser sets, nebulisers and a wide range of medicine and baby skin care products are available at the pharmacy for babies.
Over-the-counter products are available in the best brands such as Nivea, Noni and Johnson & Johnson.
The pharmacy also offers its clientele a wide range of prescription drugs for all types of ailments.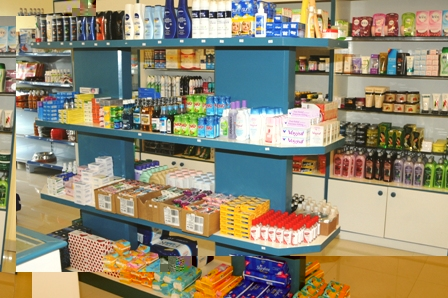 Available are pain killers, muscle relaxants, contraceptive pills and those with blood pressure and diabetes problems can buy all their needed medicine at the pharmacy.
People with limited mobility can also get all their needed aids at the pharmacy.
Commode chairs which are best suited for people who cannot use a regular toilet, walking sticks and wheelchairs are among the useful aids available.
Life Care pharmacy opens Monday to Saturday from 8am to 6pm and can cater for after hours' services. People can contact the pharmacy on 2619018.
M. B.