Iconic location brings new advertising opportunities
15-July-2013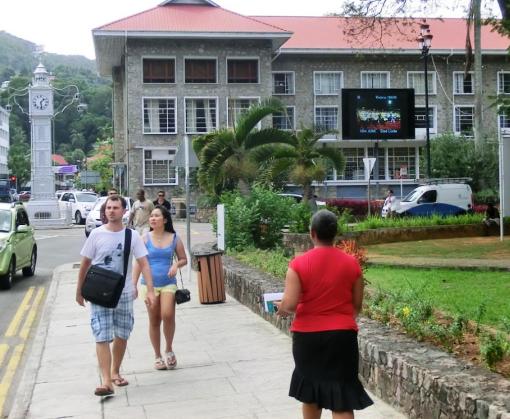 This is next to the historically significant Victoria clock tower and the main boulevard which continues to be the central traffic point for this historic Creole capital.
Indeed, State House Avenue with its nearby financial services, shops and restaurants, and is a 'hop, skip and jump' to Market Street and other interesting points, is the main artery and lifeline through which countless residents and tourists alike make their way around the colourful downtown, each and every day.
"We have developed our approach and technique over a number of years, both in France and here in Seychelles, and with an eye to detail, providing something new and interesting in high definition video, our concepts for advertising or for displaying products and services is geared to attract and better position any company," said Christian Delcourt, chief executive of Multimedia (Seychelles) Ltd.
The company is attempting to offer a superb service for an ever growing and demanding business community.
Surely, no one can miss the giant screen at Liberty House, where videos are always being shown for everyone to see. Some enjoy the relaxation of having something to watch as they leisurely talk with friends and colleagues and this location provides a solid backdrop to such occasions. Soon, they will have the opportunity to see what businesses have to offer the public, as local company Multimedia (Seychelles) Ltd has decided to use this to help promote business services, products and other entities and projects that need wider distribution.
The video screen will serve as an advertising opportunity, where carefully programmed advert slots will appear on a 24-hour basis.
"The prices are competitive and interests are quite real as we approach official launch, offering a unique service, quiz and games, scenery, adverts, all on the giant screen where thousands each day pass by," added Mr Delcourt.
Companies interested in the services on offer can contact telephone number 2532494 or e-mail This email address is being protected from spambots. You need JavaScript enabled to view it. for more information.
S. N.