Employers and workers seek to promote good industrial relations
18-July-2013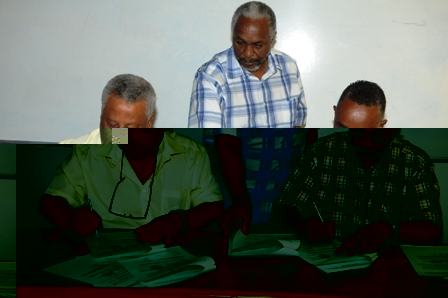 Antoine Robinson, the secretary general of the Seychelles Federation of Workers Union (SFWU) and Herman Maria, the chairperson of the Federation of Employers' Association of Seychelles (FEAS), signed the bi-partite memorandum of understanding during a two-day workshop organised as part of priority number three of the Decent Work Country Programme for Seychelles ( DWCP) which was signed in 2011.
This priority being referred to is 'The promotion of effective tripartism and social dialogue'.
The Decent Work Country Programmes (DWCP) is an International Labour Organisation (ILO) initiative which extends technical support to member states in a results-based framework to achieve the Decent Work Agenda set by the international body for the global work community.
The Seychelles DWCP 2011-2015 is seeking to address during this period three priorities in the area of employment and labour, which are; reviewing labour legislation and the dispute resolution framework; promoting quality employment and reducing unemployment particularly for women and youth and promoting effective tripartism and social dialogue.
Also attending the workshop to discuss and finalise the content of the memorandum were ILO representative Hezron Njuguna, SFWU president Maxwell Julie, FEAS executive secretary Gilbert Sultan Beaudoin, local consultant who led discussions on the draft document Felix Charles and other executive members of both federations and workers representatives.
Mr Robinson described the memorandum as "an important milestone in the history of industrial relations in Seychelles".
"Workers will be able to contribute more meaningful insights towards national decisions which concern their workplaces and sustainability of their social interests," said Mr Robinson.
As per some of the terms of the agreement, more consultations between workers and employers on all matters relating to employment and industrial relations are expected.
SFWU and FEAS are expected to undertake initiatives as individual organisations, and jointly at the bipartite level to change the general mindset of the population about the real concepts of workers and employers organisations among other aspects.