Journalists from popular African TV programme film in Seychelles
20-July-2013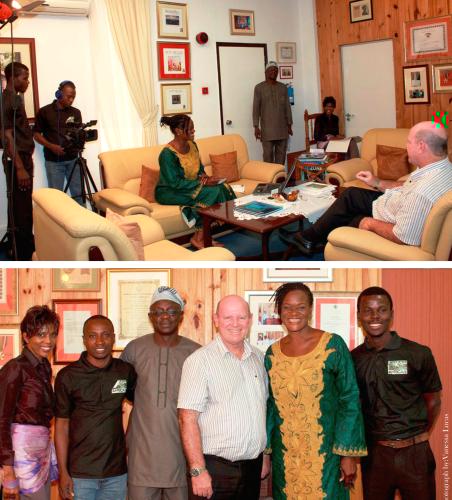 |
Minister St Ange and the Nigerian journalists during the interview (photo top) and in a souvenir photograph
Yvonne Bassey, the managing director and chief executive of the programme, is personally leading this delegation accompanied by Kayode Oladeji of Parent Media Solutions.
This week they were at the National Cultural Centre in Victoria to interview Tourism and Culture Minister Alain St Ange on tourism development in Seychelles.
"The interview for an Africa wide television programme comes at an opportune time for us. We have been advocating the need for Africa to work with Africa if Africa is to become strong and have a more dynamic tourism industry. Seychelles, is one of the islands off the African coast promoting twin centre holidays with its African mainland because Seychelles believes in promoting all the USPs (unique selling points) of Africa in its promotion in the four corners of the world.
"Seychelles wants to see a bigger drive in the development of tourism to Africa which is why at the end of August Seychelles is a candidate for the executive council of the UNWTO (United Nations World Tourism Organisation).
"We want to work with and within the UNWTO to see Africa claim its fair share of the world tourism market," said Minister St Ange.
The journalists in Seychelles came from Nigeria and they confirmed to Minister St Ange that they were overwhelmed by the exceptional beauty of the country and by its many attractions.