Seychelles contributes to enhancing World Bank's blue economy development framework
21-April-2016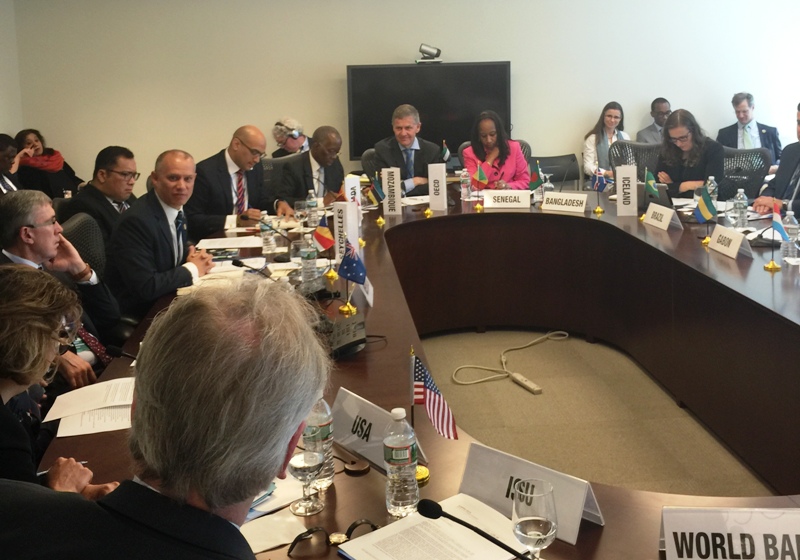 Seychelles is leading the charge to ensure a coherent blue economy development framework for implementation of the sustainable development goals and action to achieve resilience against climate change. 
Finance, Trade and the Blue Economy Minister Jean-Paul Adam shared Seychelles' experiences at a specially convened event on the Blue Economy Framework by the World Bank and underlined the opportunities created by the recently concluded debt swap agreement, as well as the prospects of mobilising additional resources from international capital markets through concepts such as a 'Blue Bond'.  
He also emphasised the importance of mobilising additional resources for the development of the blue economy recognising the opportunity inherent within this concept for developing countries. 
The International Monetary Fund (IMF) and World Bank group have used the spring meetings to further the discussion on ways to mobilise resources to better support countries in their blue economy efforts. 
The spring meetings also focused on mobilising climate finance, particularly for those most vulnerable to climate change which include the small island developing states. During the meetings, discussions were also held among African island state countries to better make use of regional opportunities to develop the blue economy. 
Seychelles also further pursued discussions in relation to implementing the Fisheries Industry Transparency Initiative which provides more information to governments, citizens and consumers about the governance around fisheries around the world. 
"It is evident that for small island states such as Seychelles, sustainable economic development depends on diversifying our economy in such a way that maximises our strengths while also protecting our resources for future generations. The blue economy is central to these efforts and we call for more resources to be made available to specifically invest in this development challenge. We are encouraged that this has become a key part of the consideration of the Bretton Woods institutions and we look forward to further progress towards the sustainable development goals and reduction of climate vulnerability in line with the Paris agenda," Minister Adam remarked. 
Seychelles also currently chairs the small states forum set up by the World Bank to better reflect the priorities of small states within the institution.
Minister Adam availed of the opportunity to further outline the priorities agreed in Lima, centred around better ensuring access to appropriate resources on the basis of vulnerability.