Blue Economy youth ambassadors off to Mauritius
06-January-2017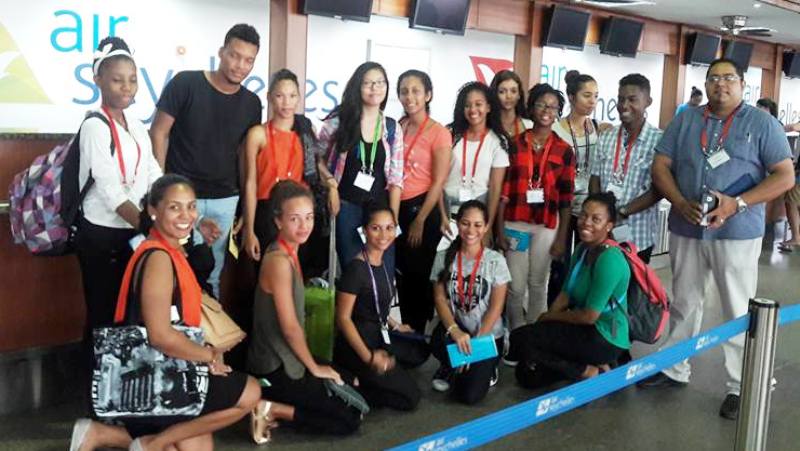 A group of young people left for Mauritius yesterday where they will be embarking on the second phase of a Blue Economy internship programme.
The programme, dubbed 'Prosperity & Environment: Promoting sustainable development opportunities for youth in the Blue Economy', is an initiative of the SIDS Youth AIMS Hub (SYAH) – Seychelles.
The youths, aged between 16 and 24 years old, will spend eight days in Mauritius where they will be joined by young people there.
Their schedule include visits to the Indian Ocean Commission, the Faculty on Ocean Studies at the University of Mauritius, the National Oceanographic Institute and the Indian Ocean RIM Association where they will be able to learn about the institutions and the work that they do as it relates to the Blue Economy.
Other activities include a mangrove snorkel with WISEOCEANS, a glass bottom boat excursion with the Reef Conservation, visiting the construction of an artificial reef to build the homes of octopi with the Environment Protection and Conservation Organisation, a dialogue with the local fishermen and kayaking and stand-up paddling as well as a cultural night with Mauritian fellows.
This is also a momentous moment for the SYAH – Seychelles as members from Seychelles and Mauritius will be meeting to brainstorm on the implementation of the 'Seeing Blue' initiative which will be implemented in Seychelles following SYAH's claim to the 1st prize of the Mary Robinson Climate Justice Award.
During the trip nine interns will have the opportunity to attend a two-day certificate level course on the Blue Economy offered by Delphinium Ltd.
SYAH - Seychelles has thanked the individuals, organisations, friends and families that have sponsored the interns and shown interest to fund this year's internship programme.
This year's programme is funded by the UK government through the British high commission in Victoria and the flights are discounted with the assistance of Air Seychelles.  
If you would like to follow the interns on their journeys, they will be regularly updating us with the use of blogs: http://syah-seychelles.weebly.com/beblogs