IOTC Resolution 16/01 for sustainability in yellow fin tuna fishing
18-January-2017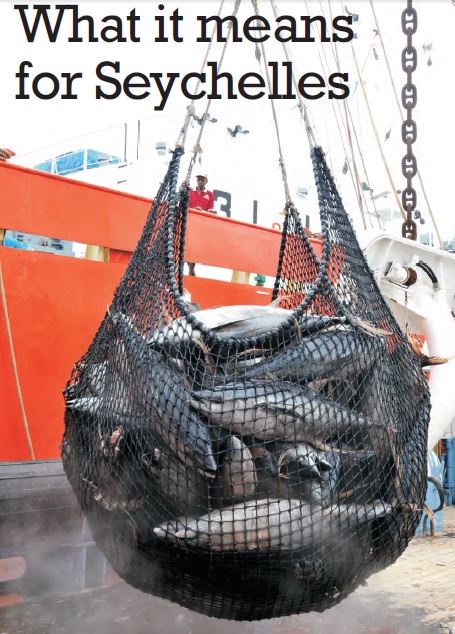 Following the recent Indian Ocean Tuna Commission (IOTC) Resolution 16/01 which requires tuna fishing member states of the Indian Ocean region to work towards reducing their catch of tuna for the sustainability of the yellow fin tuna,
concerned authorities have shed light on what that resolution means to Seychelles and the tuna industry.
This was during a press conference yesterday attended by the Minister for Fisheries and Agriculture Michael Benstrong; his principal secretary Michael Nalletamby; chief executive of the Seychelles Fishing Authority (SFA) Bernard Arnephie; special advisor (SFA) Roy Clarisse; chairperson of SFA Philip Michaud; as well as other SFA members.
According to the IOTC, countries of the Indian Ocean region, not only Seychelles, has a quota of 33,000 tonnes of tuna to be fished annually. If each country notices they are exceeding or has exceeded that quota, they are to put in measures to curb the fishing capacity of purse seiners especially. But longliners will be also required to abide by that resolution if they also go beyond limit.
"This resolution regards industrial fishing, tuna fishing. Recently there is a scientific concern that has been raised on the stock of yellow fin tuna. It is being discussed on the IOTC platform and in the Seychelles context we are also discussing it with different partners," said Minister Benstrong while introducing members of the press to the subject matter.
Explaining what the resolution means, Mr Clarisse said the resolution was adopted by the IOTC in May in their last commission meeting, which is based on the last stock assessment in 2014. In that assessment, he said, IOTC established that the amount of yellow fin tuna fished in 2014 was 430,000 tonnes.
He said this statistic includes the Indian Ocean region that IOTC governs from the Africa coast all the way to the west coast of Australia including Indonesia. Also down -20 degrees south up to the Somalia, Oman and Iranian coasts.
"So it is not just a matter for Seychelles or the south west Indian region," said Mr Clarisse.
"The IOTC scientific committee recommended the IOTC commission members make an effort to reduce the amount of yellow fin tuna caught by 20%. They decided on different percentages of catch for different categories of fishing vessels. The biggest percentage of reduction is application for purse seiners where they should reduce the percentage fished in 2014 by 15%. The others like long liners by 10% etc…  But these reduction is applicable if only a country has already fished more than 5,000 tonnes of yellow fin from the time of closure of the 2014 statistics," he said.
He also remarked in the Seychelles context, this measure is applicable to only fishing vessels flying the Seychelles flag. It is to be noted Seychelles has 13 purse seiners registered under its flag.
Mr Clarisse also said Seychelles has to establish what appropriate measures it needs to implement so the purse seiners can attain that 15% reduction if there is a need. As SFA explained, it is worth noting that Seychelles will not need to implement any measures if the catch is below the quota identified by the IOTC.
But as explained by Minister Benstrong regarding this possibility, one thing the country does not want to happen is closure of its tuna industry as it will have a disastrous impact on the economy.
But again Mr Clarisse expressed the need to monitor these vessels to get the correct data so then a decision can be made based on the result. Because if they are not catching over the quoted amount, there is no need to implement those measures.
Mr Arnephie said Seychelles has to bear in mind the economic consequences of any such decision. He said it is not one the government will take lightly. Any final decision will be based on consultations with partners and good data collection.
Seychelles has until March to come out with concrete decision regarding the IOTC resolution. The resolution was decided upon early this year.