World Wetlands Day - 'Protect our wetlands so that they can protect us'
02-February-2017
The Minister for Environment, Energy and Climate Change Didier Dogley is urging all Seychellois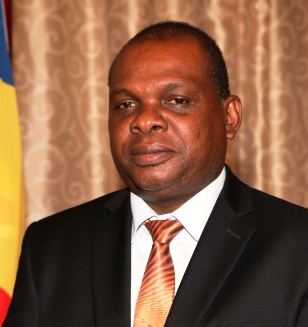 to protect our existing wetlands so that they in-turn can protect us.
This comes in Minister Dogley's message on teh occasion of World Wetlands Day today.
Minister Dogley's message reads:
"World Wetlands Day is held on February 2 each year to mark the anniversary of the signing of the Convention on Wetlands (Ramsar Convention) in Iran, on February 2, 1971. The convention entered into force in Seychelles on March 22, 2005. Seychelles currently has three sites designated as Wetlands of International Importance or Ramsar Sites, this includes the Aldabra Atoll, which comprises seven wetland types, including permanent shallow marine waters, coastal saline lagoon area, marine sub-tidal aquatic sea grass beds and mangrove swamps, also the Mare Aux Cochons High Altitude Freshwater Wetlands and the Port Launay Coastal Wetlands (Port Glaud) which is considered to be one of the best mangrove wetlands on the island of Mahé, supporting all seven species of mangroves in Seychelles.
"The international theme for World Wetlands Day this year is 'Wetlands for Disaster Risk Reduction'. It has been noted that the frequency of disasters worldwide has more or less doubled in the last three decades – of which most have been influenced by the ever changing climate and weather patterns. Seychelles has not been immune from such disasters which have included storm surges, flooding and land erosion.
"Apart from their numerous water-related ecosystem services, wetlands play an important role in helping to provide communities with resilience to natural hazards. Healthy wetlands can act as natural sponges, absorbing and storing excess rainfall, and during periods of low rainfall their water storage helps in maintaining groundwater levels and delay the onsets of droughts. Coastal wetlands also act as a natural protective buffer against coastal erosion and storm surges.
"Several cases exist in Seychelles which can portray the benefits of a well-functioning wetland system such as the La Plaine Hollandaise wetland on Praslin and also wetlands restoration programmes at large tourism establishments such as Constance Ephelia, Lemuria and H. Resort.
"The government under the UNDP Adaptation Fund project 'Ecosystem-based Adaptation to Climate Change in Seychelles' is  aiming to address water shortages and coastal flooding through ecosystem-based adaptation measures applied to forest watershed and coastal rehabilitation on Mahé and Praslin.  This is currently being implemented by supporting hydrological and inter-tidal processes that provide ecosystem services and henceforth reducing the risk of natural disasters.  The maintenance of effective wetlands is a key component of this project.  Approaches applied by the project include the re-vegetation of upland streams and the periphery of existing wetlands, cleaning up of wetlands choked with debris, constructing check-dams for retention of water during periods of heavy rainfall, and potentially extending or creating new wetlands in appropriate upland areas, such as degraded upland valleys at Val D'Andorre.  This work is assisting in water storage in upland areas, reducing peak flows that can cause flooding downstream, and gradually releasing stored water in dry periods for extraction for domestic use and for agriculture.  The project works closely with communities, mobilising local people in wetland clean-ups, planting and maintenance, and establishing watershed committees to improve ownership of water resources.
Under projected climate change scenarios, extreme climatic events, including floods, droughts and storms are expected to increase in frequency and intensity, therefore it is now even more important for us, especially as a small island state to maintain and restore our  wetlands. Therefore, I urge all Seychellois to protect our existing wetlands so that they in-turn can protect us."