NCC organises lecture and discussions to mark Father's Day
17-June-2017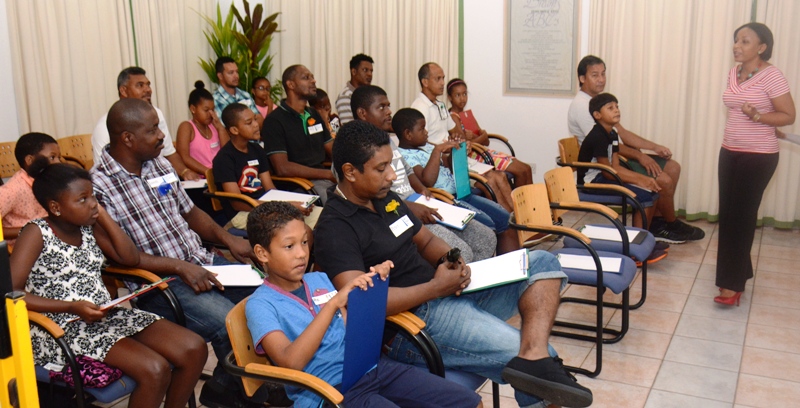 Father's Day is considered extremely important as it helps to acknowledge the contribution of fathers to individual families and to societies as a whole. Besides, observance of the day provides children an opportunity to give more attention to express their love and respect for their fathers.
It was in this context that the National Council for Children (NCC) ran a series of discussions, lecture and reflection under the theme 'The importance of fathers' yesterday morning at it offices at Bel Eau.
More than 15 fathers accompanied by their children were present to enhance their knowledge and skills on how to be better fathers, learn from each other, share experiences on how they can better contribute towards improving their children's education and their family life.
Various propositions on how to be better fathers were put forward and these included how they should as fathers better respect their children's mother, spend time with their children, discipline with love, and how to be role models, among others.
Training coordinator Fatma Bibi said such sessions that bring fathers with their children together are important as they can share their views on how to improve communication in the family.
"The workshop was for all fathers to celebrate Father's Day. We wanted to give them the opportunity to interact with each other, on their roles regarding their children. We also wanted the children to share their views and opinions on their fathers. At the end of this session, we want both parties to understand each other better and also share what they have gathered with other fathers in society," she said.
Raymond Jumaye, who is a teacher and the father of a 10-year-old boy, said after following such a workshop it will allow him to better communicate with his son.
"This session will reinforce the knowledge I already have towards being a good father in society. Being a father, you need to have the right approach towards your family. I am more ready to tackle any challenges which I may face while I carry out my responsibilities as a parent," he said. 
Nobody said being a good father was easy. No matter what age your child is or how many children you have, you have to know that a father's work is never done. To be a good father, you have to be present, be a good disciplinarian and role model, and be sympathetic to your children's needs without being a pushover.