Nigel Henri's '50 Shades' art exhibition at the National Cultural Centre
17-June-2017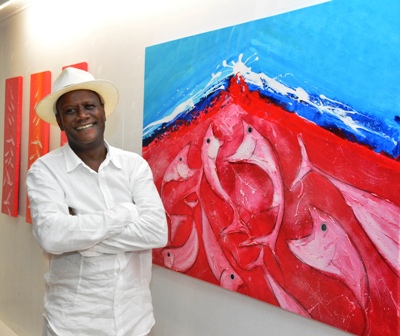 Created especially to celebrate his 50th birthday on June 15 and also to mark the culmination of 30 years of his career in art, Seychellois artist Nigel Henri's '50 Shades' art exhibition opened on Wednesday June 14, 2017 at the National Cultural Centre. 
The ceremony was attended by Youth, Sports and Culture Minister Idith Alexander, culture principal secretary Benjamine Rose, special advisor to the Minister Emmanuel d'Offay, members of the diplomatic corps, some members of the National Assembly, artists, singers and family and friends of the artist.
Four speakers expressed acknowledgements of admiration and recognition to Nigel Henri.
The first address was by Danny Sopha, chairperson of Seylar, who recalled his years at the Seychelles Polytechnic where both Nigel and he were engaged in art courses. Eventually, both of them pursued a successful career in art.
He was followed by Jimmy Savy, chief executive of the National Arts Council, who informed the small motley group of guests that "Nigel has remained resolutely faithful to his calling."
"This is evident from the fact that the last three decades have been regularly, constantly punctuated by spectacular exhibitions which attested to his talent, determination and aspiration. Nigel is a powerful example of how one can achieve success in art in Seychelles. He has artfully, I must say, combined his artistic creativity with a sense of commercial astuteness," said Mr Savy.
Daniel Belle, a friend of Nigel, recalled how he made acquaintance with the artist when he met him on the plane on the way to Paris, many years ago. He claimed to own quite a few 'Henri' masterpieces and referred to him as the "Picasso of the Seychelles art family".
Emmanuel d'Offay reminded the guests that "Nigel is recognised as one of the pillars of the Seychelles art community. He has formed various associations with the aim of uniting artists in working together for the development and promotion of the arts."
Being an artist himself who has been the winner of prestigious arts awards, Mr d'Offay went on to expatiate on the philosophical appreciation of art and its social virtues.
"The presence of art in a country is an enriching attribute," he said.
"Culture and aesthetics are values that contribute to the social prosperity of a nation".
Lastly, in his usual peculiar humorous style, which is one of his distinguishing qualities, the man of the evening himself, the teenage-looking quinquagenarian artist expressed his deepest gratitude to all those who have been of help to him during the last decade – his carpenter, various artist friends and of course his wife.
Nigel Henri was born in 1967. After studying art at Sussex University he taught at the Seychelles Polytechnic School of Arts and Design for many years while pursuing his passion for painting. He has held exhibitions in many capital cities of Europe.
His '50 Shades' consists of 21 paintings which include 2 triplex paintings ‒ acrylic tableaux of which, save for only one (The Nut), were unsurprisingly products of his "piscatorial propensity". An exquisite collection of a score of fish paintings with enigmatic titles like: Paradice II, The Fern, Green Ali I, May I, May II, The Russians… Paintings that typify so eminently Nigel Henri's creative identity. Prices range from R8,000 to R26,000. By the end of the evening, Henri aficionados had bought nine of the '50 Shades' paintings.
As befitting such an occasion, a cocktail party had also been organised for the evening. Allan Bacco, Wellington Lewis and Jany de Letourdie provided excellent entertainment, pleasing the guests with nostalgic Creole and English songs from the 80s.
Nigel Henri's '50 Shades' exhibition will remain open until July 3, 2017.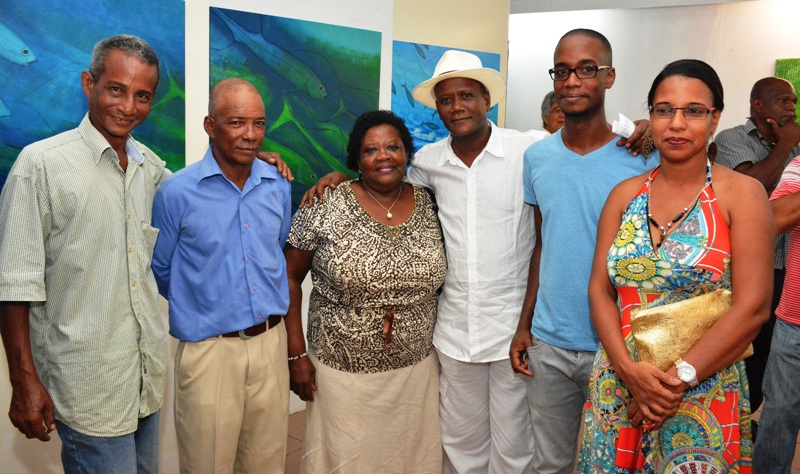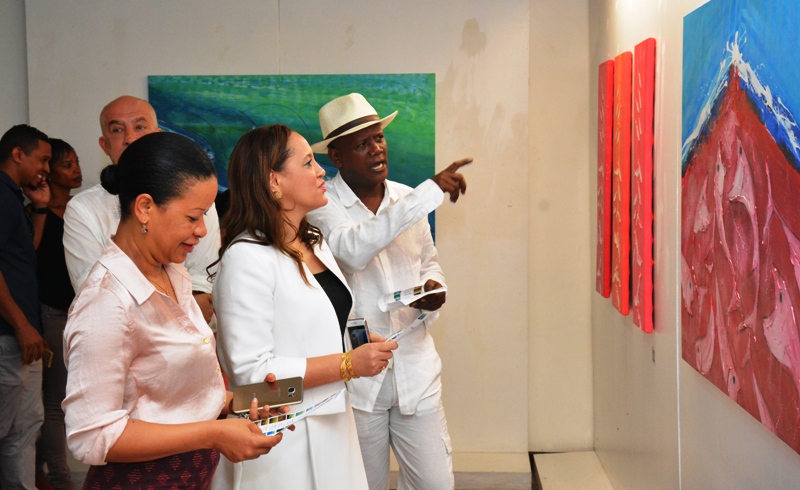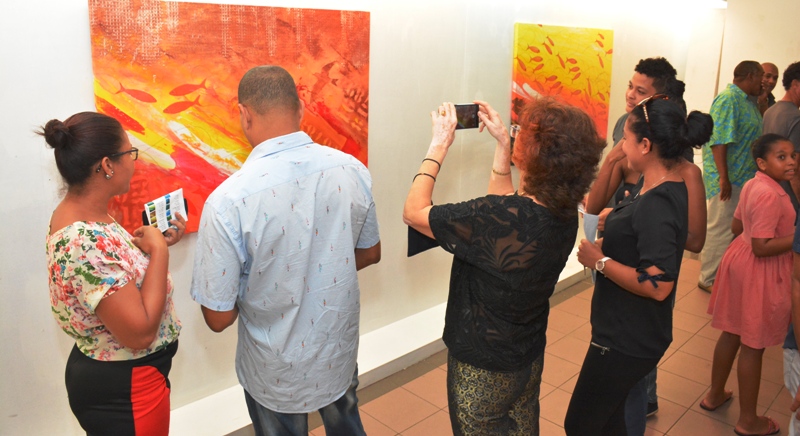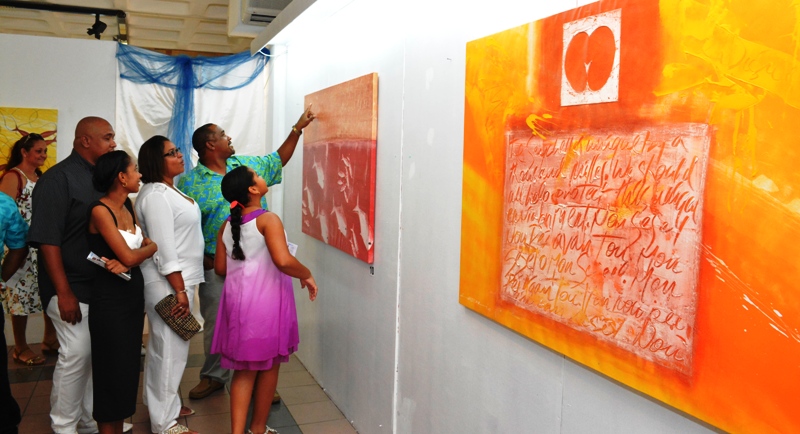 Contributed by Tony Mathiot
Photos by Patrick Joubert